Natividad Family Medicine and Clinica de Salud del Valle (CSVS) sponsor a 1 year fellowship in Community Medicine and Care of the Homeless and Underserved in Salinas, CA.
Learning goals for fellows:
Identify the gaps in care for the underserved/homeless and use public health and population health approaches to reduce health disparities
Facilitate collaboration across agencies and identify feasible models to provide comprehensive services to the underserved/homeless
Develop the clinical skill set to provide effective care to the most vulnerable communities. This will be tailored to each fellow and may include: mobile/street medicine, Hep C care, HIV care, addiction medicine and MAT, wound care, LGBTQ+ care, behavioral health/psychiatric care for patients with chronic mental health issues, and coordination with case management and social work.
Advocate for policies and resources to benefit underserved and homeless individuals at the local and state level
The fellow's primary clinical site will be the CSVS mobile clinic in Salinas. The fellow will be supported by mentors from the department of family medicine and from numerous agencies providing services for the homeless and underserved in Salinas and Monterey County.
Physicians who will graduate from ACGME-accredited Family Medicine Residencies by July 2020 are eligible to apply. Spanish proficiency is required. Please send CV, Personal statement and 3 letters of recommendation to NMCFMRES@natividad.com with Community Med Fellowship in the subject line by October 31, 2021.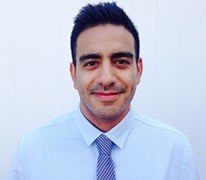 Dr. Abraham Vela
I grew up between Guatemala and the United States and was exposed very early on to the language, social and economic barriers that our communities face when trying to access health care and other social services. This motivated my desire to pursue medicine and use it not only to heal but also as a tool for social change. I started working with grassroots social justice organizations in high school and continued during my college years at San Francisco State University where I studied Latino/Latina studies and Biology. I had the honor of receiving a scholarship to attend the Latin American School of Medicine in Havana, Cuba where I studied alongside students from all over the world. My first lesson in medical school defined the way I practice medicine, to treat each patient as a biopsychosocial and spiritual human being. I completed my Family Medicine Residency at Pomona Valley Hospital Medical Center where I had the privilege to serve the vulnerable communities in Pomona and surrounding areas while receiving full-spectrum training. My passions lie in community healing, education, pipeline projects, street medicine and harm reduction. I am excited to join Natividad Medical Center and Clinica de Salud del Valle de Salinas where I hope to put down roots and continue my training in Community Medicine.