Natividad's Dr. James Hlavacek Named Physician of the Year by Monterey County Medical Society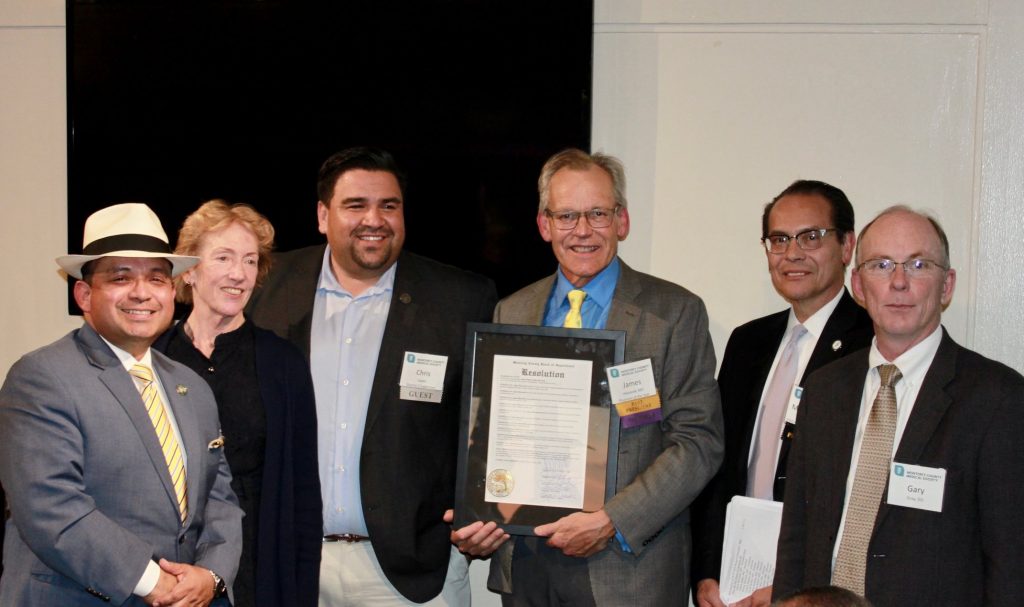 Natividad's Dr. James Hlavacek, an anesthesiologist, is Monterey County Medical Society's 2019 Physician of the Year.  He was honored at a dinner June 6 at Bayonet and Blackhorse in Seaside, California.
"Dr. Hlavacek is an ambassador to public officials for the medical community. He exemplifies the best of our community," said District 1 Supervisor Luis Alejo. "Not only is he inspiring us, but he's educating the next generation."
This award is given to a person who has made a significant contribution in the health care field, is a strong motivator and educator, has a good rapport with patients, demonstrates extraordinary professional competence, and is a strong role model for young physicians.
"I am honored to receive this award from my peers," Dr. Hlavacek said. "Serving patients in Monterey County over the last 20 years is an extremely rewarding experience, and I look forward to caring for people in our community for years to come."
Dr. Hlavacek received his medical degree from the University of Nebraska, Omaha in 1983 and completed his residency at St. Elizabeth's Hospital in Boston. He went on to complete a cardiac anesthesia fellowship at Hahnemann University Hospital in Philadelphia. Prior to joining Natividad in 1999, Dr. Hlavacek worked at hospitals in Massachusetts, Florida, Virginia, and Northern California. He is also on-staff at Mee Memorial Hospital in King City.
"Dr. Hlavaeck is a link between the medical world and the policy world," said District 4 Supervisor Jane Parker.
Dr. Hlavacek is a past president of the Monterey County Medical Society and currently serves on its board of directors. He is a member of the California Medical Association, California Society of Anesthesiologists, and American Society of Anesthesiologists. He previously served as Natividad's Chief of Staff. Dr. Hlavacek was recognized as 2017 Philanthropist of the Year for Natividad Foundation and as 2018 Philanthropist of the Year for Meals on Wheels Monterey.
"Dr. Hlavacek is an excellent physician and a strong advocate for improving the health of our community," said Natividad's CEO Dr. Gary Gray. "He treats all of his patients with compassion, professionalism, and care."