Natividad Medical Group is committed to your family's health.
Dedicated to Every Patient, Every Visit, Every Day
Natividad Medical Group is dedicated to improving the health of our patients. We offer the best possible family medicine services in Monterey County.
Innovative medical practice
Outstanding doctors
Exceptional patient service
Spanish speaking practitioners and staff
Close proximity to other medical facilities
Providing Superior Family Care
Our staff listens and cares, providing superior medical knowledge and friendly neighborhood service. Our doctors are noted for their years of experience, kind demeanor and inviting presence. Natividad Medical Group provides:
Comprehensive primary care and obstetrics
Minor outpatient surgical procedures
Vaccinations
Well-child and adult care
Physical exams
Pap smears
Diabetes
Chronic medical conditions
Geriatrics
Referral to specialty services
Contact Us
Call to schedule an appointment at (831) 759-0674
Office Hours
Monday through Friday, 8:00 am to 12:00 pm; 1:00 pm to 5:00 pm
Natividad Medical Group
1441 Constitution Blvd., Bldg. 200
Salinas, California 93906
Meet the Team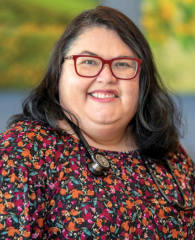 Minerva Perez-Lopez, MD.
Dr. Perez-Lopez, a Salinas native who graduated from Alisal High School, is distinguished with honors, scholarships, and academic recognitions. She received her medical degree from Brown University School of Medicine in Providence, Rhode Island. She completed her residency at the Family Medicine Residency Program at Natividad, where she was named Chief Resident in 2005 and was awarded the department's Hannon-Lauderdale Memorial Award for Outstanding Performance in Residency. She then completed an Obstetrical Fellowship at Santa Clara Valley Medical Center in San Jose, California. Dr. Perez-Lopez says her educational background offered outstanding opportunities, but her goal was always to return to the community she knows and loves to be a family physician. Dr. Perez-Lopez is fluent in English and Spanish. Dr. Perez-Lopez is also the vice chair of the board of directors of the Natividad Medical Foundation, which is dedicated to philanthropically supporting Natividad in its mission to provide health care access to all patients regardless of their ability to pay.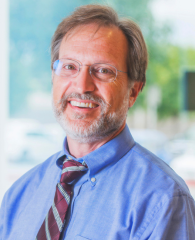 Marc Tunzi, MD.
Dr. Tunzi was born in Salinas and grew up in Spreckels, received his medical degree from University of California, San Diego and completed his family practice residency at Valley Medical Center in Fresno, an affiliate of University of California, San Francisco. He worked in community clinics in Montana and Idaho before returning to Salinas in 1993. Dr. Tunzi has served as the Program Director of Family Medicine Residency Program at Natividad and is currently the Assistant Program Director. Dr. Tunzi's special medical interests are medical ethics and behavioral issues, though he really sees himself as a true family physician generalist. He has worked for years with the homeless serving as the Medical Director of the Franciscan Workers of Junipero Serra Homeless Clinic in Salinas, for which he won a KSBW-TV Jefferson Award for Community Service. Dr. Tunzi is fluent in English, Italian and Spanish.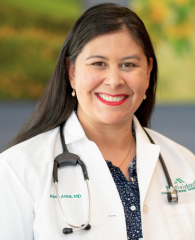 Ana Abril Arias, MD.
Dr. Arias specializes in Family Medicine and received her medical degree from Autonomous University of Baja California School of Medicine in Tijuana, Baja California, Mexico. After medical school she became part of the University of California, Los Angeles International Medical Graduate Program. She completed a Family Medicine Residency at University of California, San Diego, serving as Chief Resident of the program in 2012. During her residency, Dr. Arias was named Outstanding Intern in Labor and Delivery by the Obstetrics Department. She was also a member of the UCSD Perinatal Practices Committee that sets policy for patient care in the labor, delivery and post-partum departments. Dr. Arias was initially attracted to Salinas for the Obstetrical Fellowship. She completed her year in training here at Natividad and loved the community and the patients so much that she decided to stay. Her special interests include: Obstetrics, Underserved Medicine and Teaching. Dr. Arias is fluent in English and Spanish.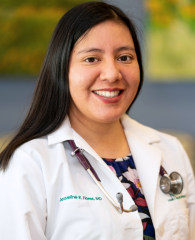 Jacqueline Flores, MD.
Dr. Jacqueline Flores was born and raised in the Bay Area. She completed her medical school training at Loma Linda University and then came to Salinas to complete her residency at the Family Medicine Residency Program at Natividad. Her desire to continue to care and passionately serve the Central Coast community kept her at Natividad after completing her residency. She practices full scope ambulatory family medicine and has special interests in women's health and lifestyle medicine. Dr. Flores is fluent in Spanish.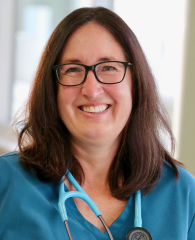 Amber N. Paris, Nurse Practitioner
For more than 17 years, Amber Paris has served the community as a primary care provider, clinical nurse educator and registered nurse. She earned her Master of Science in Nursing at Oklahoma City University and received her postgraduate certification as a Family Nurse Practitioner at the University of Massachusetts in Boston. Paris is a board-certified Family Nurse Practitioner and supports programs to help facilitate improved access to health care for all. Additionally, she has developed and implemented programs to support the mentorship of new graduate nurses. Paris is involved in her community, working with the Monterey Presidio to implement a tobacco-free campus initiative that aims to decrease preventable deaths related to tobacco.