Natividad's Dr. Walter Mills Takes Office as President, California Academy of Family Physicians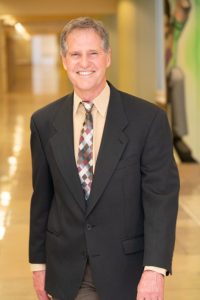 Natividad's Walter W. Mills, MD, MMM, FACPE, a family physician, was selected as president of the Board of Directors of the nearly 11,000-member California Academy of Family Physicians (CAFP). In this role, Dr. Mills will champion the importance of family medicine in keeping Californians healthier and in helping to shape the future of the state's health care system.
As a faculty member of the Family Medicine Residency Program, Dr. Mills trains new family physicians while also providing patient care at the hospital and outpatient clinics. As CAFP president, he will help set the Academy's health policy priorities; work with colleagues, educators, lawmakers, and others to address the primary care physician shortage; and advocate for patients' timely access to primary care.
"The need for primary care physicians has never been greater," Dr. Mills said. "Research shows that increased use of primary care is associated with lower mortality, fewer hospitalizations, greater patient satisfaction, and lower costs, yet California faces a shortage of more than 4,000 of these doctors within the next decade. Rural areas like Salinas and Monterey County are already hard-hit by the shortage."
Family physicians are an essential part of the health care system because of their specialized training in providing primary care that is not limited by a patient's age or condition. "At Natividad, we're training the next generation of family physicians who help improve the community's health well into the future. Family physicians provide a broad spectrum of care to keep people as healthy as possible. We partner with patients across the lifespan, from birth through older-age, to prevent illnesses, expertly manage chronic conditions, and coordinate care across the health care system," Mills added.
Dr. Mills, a fellow of the American Academy of Family Physicians (AAFP), has decades of experience in academics and healthcare, including teaching, community medical practice, and hospital and medical group executive management. As Natividad's Director of Medical Education, he leads the Geriatrics, Patient Safety/Quality Improvement and Resident Leadership training rotations of the Family Medicine Residency Program. Before joining Natividad in 2014, he developed a new Kaiser Permanente residency in Santa Rosa and new medical student programs for the University of California, San Francisco and Touro Medical Schools. He is chair of AAFP Residency Program Solutions, a national consulting team promoting excellence in family medicine education.
Dr. Mills received his medical degree from the University of California, San Diego School of Medicine and completed his family medicine residency at the University of California, Los Angeles – Santa Monica Family Medicine Residency. He holds a master's degree in medical management from the University of Southern California Marshall School of Business and is a fellow of the American College of Physician Executives.