Bank of America Awards $200,000 to Natividad Foundation Expanding Free COVID-19 Vaccination Clinics
Grant has already helped nearly 8,000 additional essential workers get vaccinated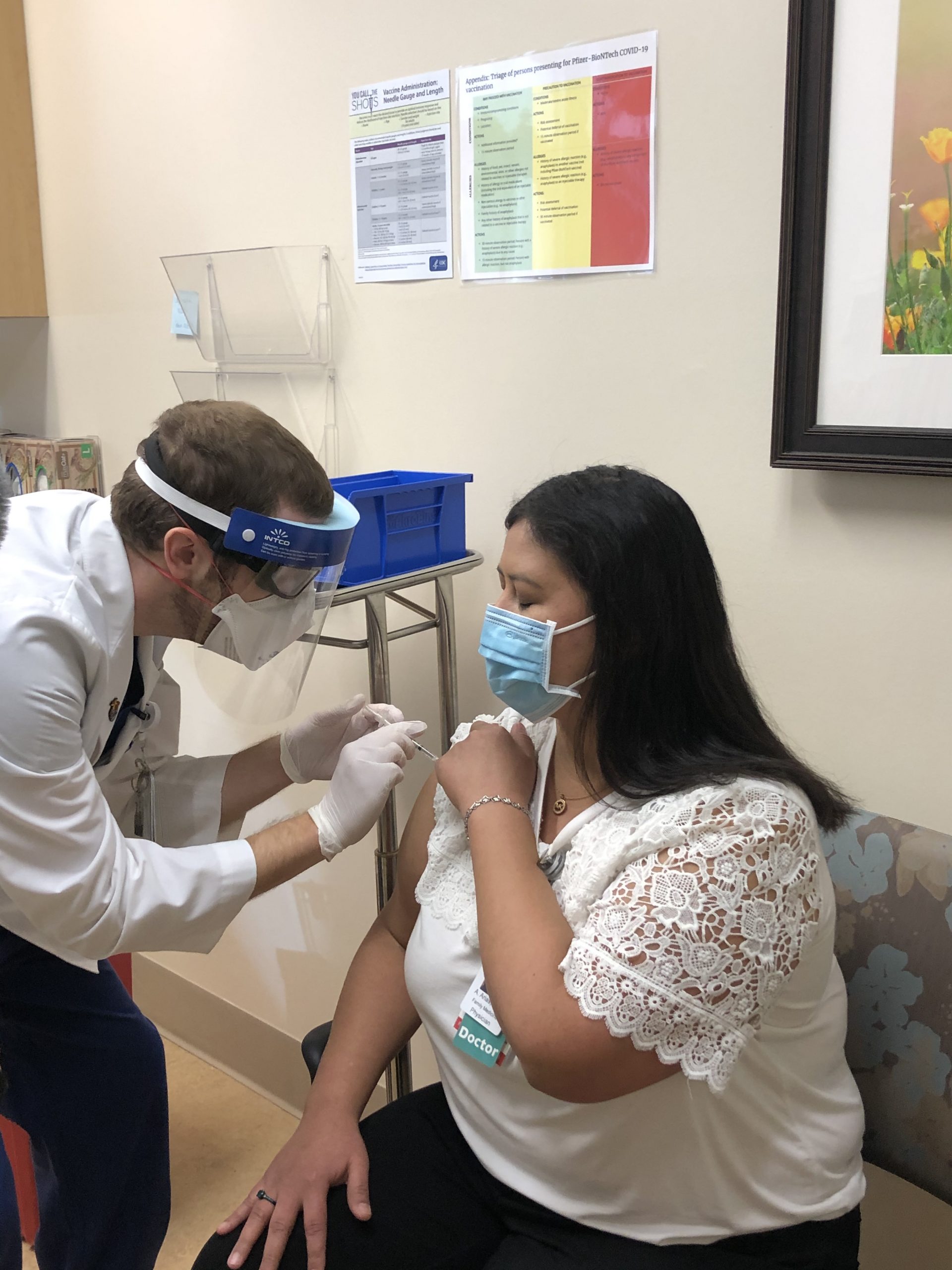 Dr. Ana Abril receives a Pfizer vaccine at Natividad Medical Center. (Courtesy Natividad Medical Center)
Natividad Foundation announced today it has received a $200,000 grant from the Bank of America Charitable Foundation to bring additional vaccine clinics to Monterey County through Natividad. The gift is the largest single donation received for Natividad's COVID-19 efforts and brings the bank's support to Natividad to $250,000 since the onset of the pandemic.
The grant provides funding for Natividad's vaccination clinics needed to combat the ongoing pandemic. While the new clinics are available to everyone, a special focus will be on vaccinating essential workers like farm laborers and teachers. The gift was given as part of the 2021 campaign for The Agricultural Leadership Council, a group formed by John D'Arrigo and several leading farm families to change and save the lives of agricultural laborers and their families.
Thanks to Bank of America's support, Natividad has been able to vaccinate almost 8,000 people with their first Pfizer shot – about 70% of them being Latino. The second shot clinics are scheduled for Saturday, May 1 and Sunday, May 2.
"The past year has been extremely challenging for the world, but now we have tools to help us bring an end to the pandemic," said Dr. Craig Walls, Natividad chief medical officer. "We are thrilled that the contribution from Bank of America can be used to facilitate more vaccinations for everyone, including those who have been working throughout the pandemic to keep us safe and healthy."
"The health crisis has impacted all of us, disproportionately so in our communities of color where Natividad's extraordinary efforts are truly making a difference in bringing the county towards full immunity. Bank of America is committed to the health and economic well-being of the region, which begins once we can safely reopen society and commercial businesses," said Bill Tebbe, Monterey Bay president, Bank of America. "Natividad is an anchor institution that so many in the community depend upon, and the people they care for deserve our support."
Founded in 1988, Natividad Foundation is a nonprofit that provides philanthropic support for Natividad through its partnerships with foundations, individuals, businesses and government agencies. Owned and operated by the County of Monterey, Natividad is a hospital and trauma center that provides health care services to residents and visitors throughout Monterey County, including the vulnerable.
"The gift from Bank of America for vaccination clinics, combined with their gift last year to help purchase medical equipment for the hospital's converted COVID Unit, makes them the largest funder for Natividad's COVID-19 response with a quarter-million dollars in donations," said Natividad Foundation's President and CEO Jennifer Williams. "When access to care is easier and closer to home, people are more likely to get the vaccinations they need to protect themselves and those they love."
"Everyone needs to be able to get vaccinated," said Walls. "The Bank of America gift is important because it provides the funding we need to continue providing the staff needed to provide those vaccinations."