Being Proactive this Heart Month Can lead to Better Health in the Future
Author: Michelle Martin, for Natividad
Publication: Salinas Californian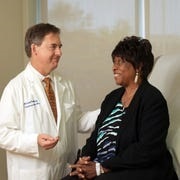 Heart disease is the leading cause of death in the United States for both men and women. But there are ways to improve your heart health and, in some cases, even prevent heart disease.
February is American Heart Month, a time to raise awareness about heart disease and the actions that people can take to prevent it. The first step is to see a cardiologist.
Cardiology consultations are recommended for people who have a family history of heart disease or stroke, as well as those who have high blood pressure, high cholesterol or diabetes. People who smoke should also see a cardiologist.
Anne Healey of Pebble Beach, a retired IBM senior manager, learned firsthand how important it is to make an appointment with a cardiologist. Knowing she had a history of stroke in her family, she started seeing Dr. Michael Galloway, a cardiologist at Natividad Care Center, almost 20 years ago.
She had been flying every week to New York for work, and she was concerned her fast‐paced career was affecting her health.
"I was approaching a point where I knew I needed to do something," Healey said.
Dr. Galloway performed a stress test and helped Healey make changes to her lifestyle. She continues to see him once or twice a year, when he checks her bloodwork and blood pressure, evaluates her medication and vitamins and talks with her about diet and exercise.
Staying heart healthy lets Healey continue to enjoy life with her husband, Anthony. The couple enjoys exercising together and traveling around the world.
"We plan to start ballroom dancing in the future," she said.
Being proactive
Healey's proactive approach to heart health is one example of why it's important to see a cardiologist, if you're at risk of heart disease.
In addition to making an appointment with a cardiologist, people should understand and do the following:
Choose a healthy eating plan. A healthy diet can reduce your risk of heart disease by lowering blood pressure, improving cholesterol levels, controlling blood sugar and managing body weight. Talk to your doctor about the ways you can improve your eating habits.
Be physically active. The American Heart Association recommends 150 minutes of moderate exercise, such as brisk walking, or 75 minutes of vigorous exercise, such as running, each week.
Know your family history. If a relative has heart disease, you have a higher risk of developing it. That's especially true, if the relative is a parent or sibling.
Reduce stress. Long‐term stress can increase both your heart rate and your blood pressure, which can damage artery walls.
Know the signs of a heart attack. Warning signs include discomfort in the chest or arms, shortness of breath, a cold sweat, nausea or lightheadedness.
"I've come to realize your health is your health," Healey said. "You can't expect the doctors to do everything. I love that my physician presents the responsibility as a team effort."
Passion and treatment
Natividad Care Center's cardiology team is made up of five physicians, each with slightly different specialties. Their unique skills range from electrophysiology, which examines the heart's electrical system, to nuclear cardiology, which studies the heart's blood flow.
"We have an incredibly skilled cardiovascular team," said Dr. M. Kerala Serio, chief of cardiology services at Natividad, who was closely involved with creating the Care Center. "Our cardiologists are all very experienced, well‐respected and highly regarded in the community.
 Natividad Care Center, located at the Salinas campus, is an outpatient center that focuses on non‐acute care and offers cardiology services such as routine lab work, medication monitoring and testing. The center also performs hundreds of cardiopulmonary tests each month, including:
Echocardiograms. Also known as an echo, an echocardiogram looks at the anatomy of the heart through the use of ultrasound technology.
Stress tests. A stress test measures the heart's ability to respond to external stress, such as exercise on a treadmill, stress echo as well as cardiac nuclear procedures.
Electrocardiograms. Often called an EKG or ECG, an electrocardiogram graphs the electrical activity and timing of the heartbeat.
Pulmonary function tests. These assorted tests show how well the lungs bring oxygen to the rest of the body, and they can also help diagnose airway diseases.
"It's not just patient care," Galloway said. "It's caring for patients. To me, there's a difference."