Dr. Christopher Burke Honored by Colleagues as Natividad's 2019 Physician of the Year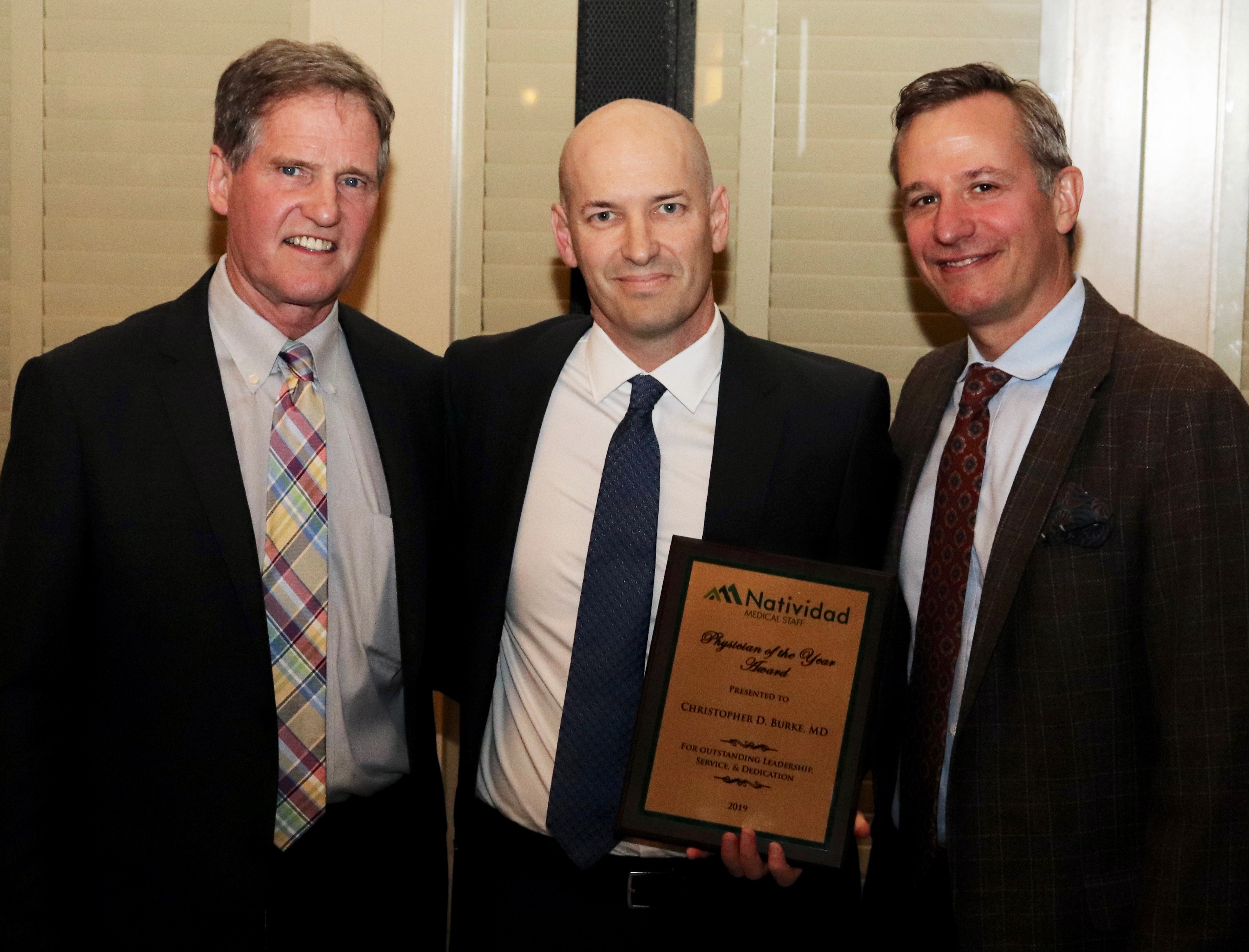 Christopher Burke, MD, Medical Director of Natividad's Emergency Department, is Natividad's 2019 Physician of the Year. Nominated and selected by medical staff peers and residents in training, the award honors an exceptional physician who inspires healthy lives.
"One of the core areas of Physician of the Year is Leadership, and Dr. Burke leads by example," said Chad Harris, MD, Natividad's Chief of Staff and Chief Medical Information Officer. "In the Emergency Department and on numerous task forces, he is always there to advocate for the groups he is a part of to ensure the best care for patients, staff, and Natividad as a whole."
Natividad's emergency specialists are available 24 hours a day for everything from general illnesses and disease to life-threatening conditions. "We are available nights, weekends and holidays to help patients through some of the worst days of their lives, whether it be a life-saving procedure or merely holding their hands and reassuring them they are well," said Dr. Burke. "We care for any patient who comes to us, regardless of insurance, ability to pay, or language spoken. I am blessed with an extremely high quality and dedicated nursing staff and a supportive administration."
Dr. Burke is well respected among all levels of staff, from fellow physicians, to nursing staff, to ancillary members of the Natividad community. "I really enjoy working with Dr. Burke," said Natividad's CEO Gary Gray, DO. "Because of his calm demeanor and leadership, our patients and staff greatly benefit from him."
Affiliated with University of California, San Francisco, Natividad is Monterey County's only teaching hospital. In addition to his emergency department duties, Dr. Burke is an Assistant Professor of Clinical Medicine through the Natividad Family Medicine Residency Program.
"I love interacting with and teaching the Family Medicine Residents the art of Medicine," said Dr. Burke. "It is inspiring to be part of the tradition of shaping the next generation that will continue to improve our patients' lives."
Dr. Burke has served as Medical Director of Natividad's Emergency Department for three years and has been with the hospital for 20 years. He is a 1996 graduate of the Georgetown School of Medicine and completed his medical residency at the State University of New York at Buffalo in 1999.