Natividad Offers Virtual Visitation and Counseling Services to Help Patients Heal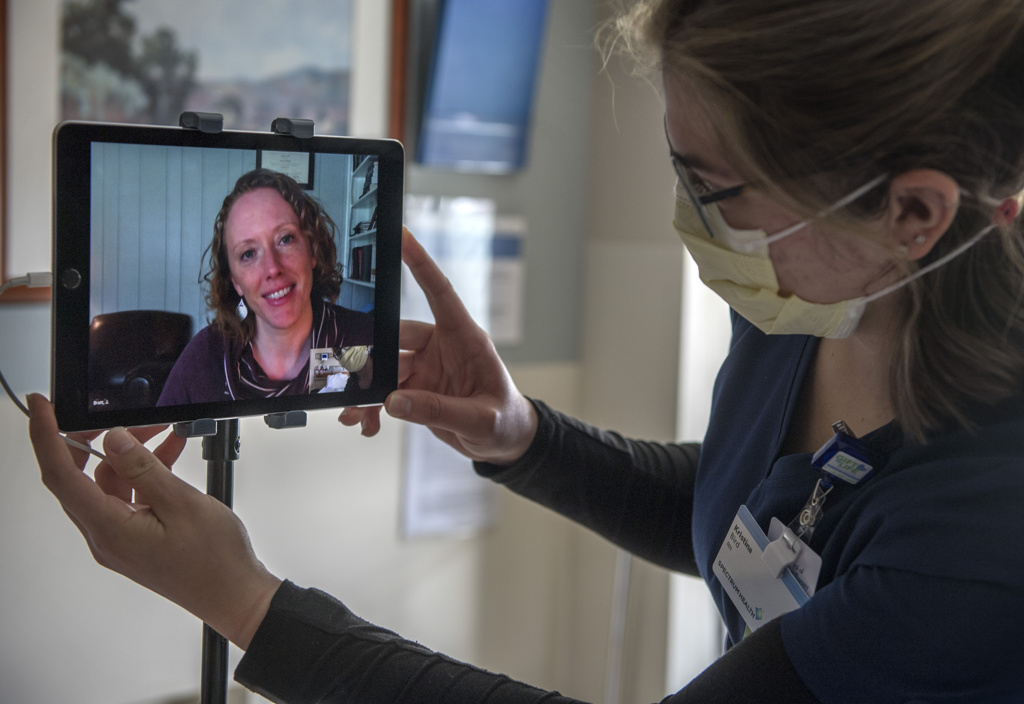 Natividad has launched a virtual visitation initiative to help patients heal through connection and to provide emotional support to their friends and family.
Due to the COVID-19 pandemic, Natividad has adopted a no visitor policy, with exceptions for birth, pediatric and end-of-life circumstances. The policy was implemented to protect patients, their families, staff and the community by reducing traffic and the potential spread of coronavirus in the hospital. In partnership with Natividad Foundation, the hospital is bringing iPad tablets to hospitalized patients without smart devices so they can visit with their loved ones through video while the no visitor policy remains in effect.
"Connection is vital in the healing process and can have an incredibly positive effect on a patient's prognosis," said Dr. Craig Walls, Chief Medical Officer at Natividad.
"It's a very emotional experience for patients to be away from their loved ones during this difficult and complicated time," added Natividad Medical-Surgical Nurse Amber Oliveira. "Patients are missing support; it puts a lot of pressure on nurses to be more supportive so that patients know they are not alone. We understand that you can't trade nursing support for family support."
Donors to Natividad Foundation's COVID‐19 Relief Fund helped purchase 18 tablets, which will be provided to patients who need them. Each tablet includes access to communication applications such as FaceTime, Skype and Zoom. Natividad Foundation also purchased an assortment of chargers that will be distributed to patients who do have smart phones or tablets, but who have forgotten their chargers at home.
Intensive Care Unit Nurse Marjorie Balleras recently provided the first FaceTime meeting on a hospital iPad for a patient's family and said it was an extraordinarily emotional and well‐received visit.
"I could sense the emotion in their voices. Partway through the conversation, I remember one of the family members telling me, 'thank you so much for doing this, we know your work is hard.' I felt as though they were trying to comfort me instead of the other way around," said Balleras. "As nurses, we must never forget the power of touch and the power of words. We must always treat our patients with compassion. I am thankful for the Natividad Foundation and the generosity of their donors for helping nurses support our patients during this uncertain time, so no one is ever truly alone."
Emotional Distress Counseling
Natividad is also collaborating with the Disaster Distress Helpline, a national hotline dedicated to providing immediate crisis counseling for people who are experiencing emotional distress related to any natural or human-caused disasters. Counselors can provide information on how to recognize distress and tips for healthy coping, as well as referrals to local crisis call centers for additional follow-up care and support.
Patients and community members can connect with a trained crisis counselor by calling 1-800-985-5990 or texting TalkWithUs to 66746. For Spanish, press 2. Counseling is also available in more than 100 other languages through third-party interpretation services.
For more information on the Disaster Distress Hotline, visit www.samhsa.gov/find-help/disaster-distress-helpline.
For general information about the novel coronavirus, please visit our website at www.natividad.com/covid-19.