Natividad Volunteers Donate 1,700 Masks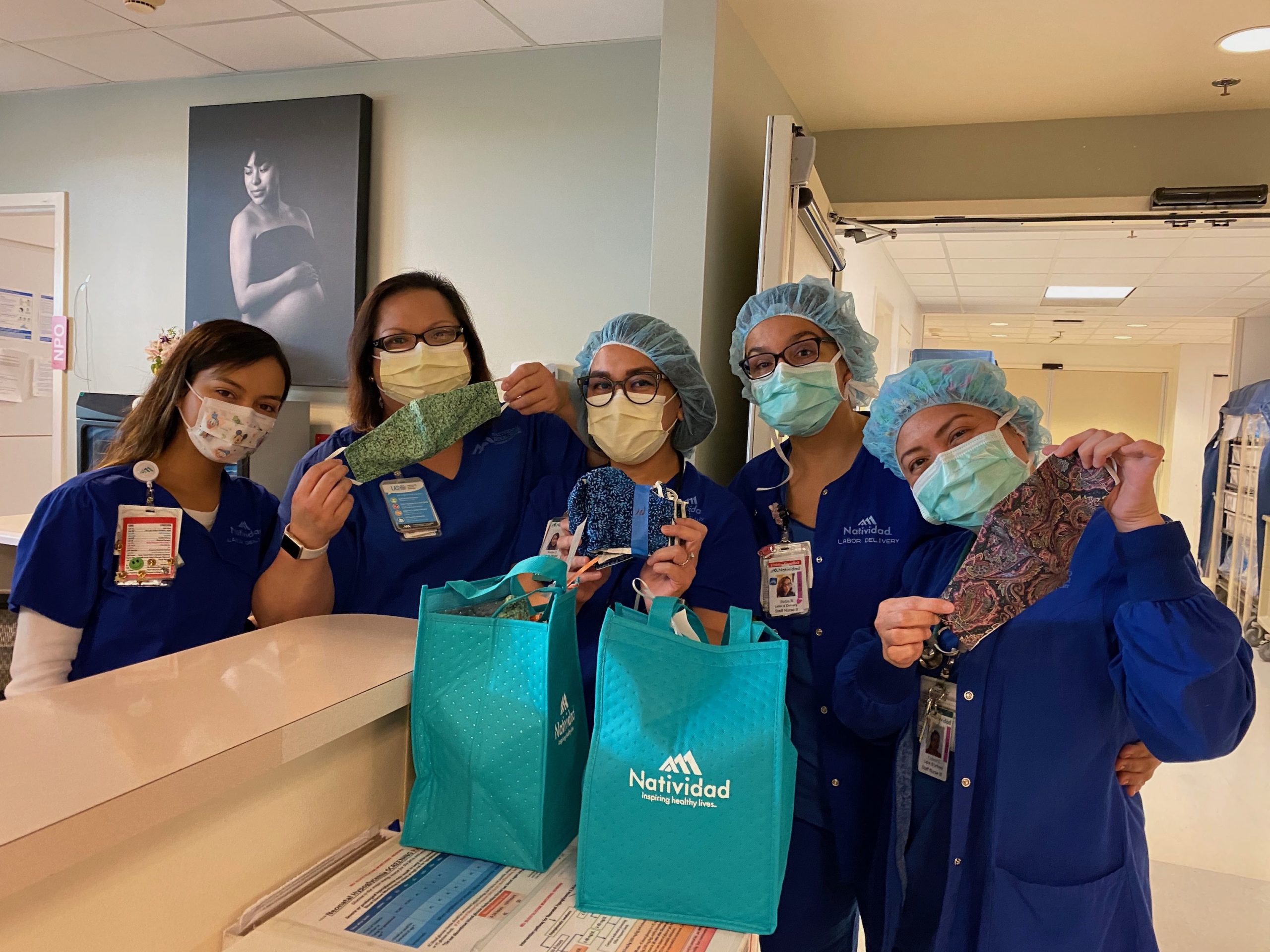 When the shelter-in-place order came in March, overnight, volunteers at Natividad shifted from assisting patients and staff at the brick-and-mortar hospital to helping them from home.
Inspired by the Million Mask Challenge, people rallied together to support medical staff by hand sewing washable, reusable masks. Natividad teamed up with Natividad Foundation and its Volunteer Auxiliary to form a mask-making brigade, engaging guilds, college students, individuals and families.
"There is a psychological benefit to being a part of the solution. Volunteers needed a way to contribute while staying at home, and the Million Mask Challenge filled that need," said Natividad Volunteer Coordinator Jennifer Ferguson. "Volunteerism is an essential part of our country's social fabric and is perhaps most important during times of crisis."
In just two weeks, 74 volunteers crafted over 1,700 masks to keep Natividad staff members safe and for them use while away from work.
"Volunteers are so essential to support the work we do, and this heartfelt gesture uplifts morale during these difficult times," Ferguson said.
They completed the goal of crafting one mask for every Natividad staff member just days after Monterey County declared the masking mandate. "I have a business as an interior seamstress. It felt so nice to be part of volunteering and giving to Natividad during this time of need," said Carmel Valley resident Linda Johnson.
Volunteers from as far away as Southern California crafted 25 to 100 masks each. Community members furloughed from their jobs turned to volunteer work.
"I have always loved to sew and I have made a lot of my own clothing for years. I'm an interior designer and my career really slowed down, so I used my new found time to sew something useful. Natividad made it very easy for me to contribute because Natividad Foundation provided all of the supplies during a time that it is difficult to find fabric and elastic," said Pacific Grove resident Christi Sutphnec.
Donors to Natividad Foundation's COVID-19 Relief & Resiliency Fund played a critical role in the project by donating all material kits for sewers to use, including fabric, thread, elastic, the Olson mask pattern and scissors.
Others joined the movement after the pandemic personally touched them. One mask-making volunteer said that her involvement was her way of being grateful for her son's recovery from coronavirus.
The volunteers often involved multigenerational families. Children worked alongside grandparents to learn a new skill during their time away from school. Ellie Burnett, 11, said she was excited to help out. "I wanted to do something to help fight the coronavirus and I hope the masks help protect our health care heroes!"
Her sister, Eden Burnett, 15, shared the sentiment. "I was really happy to make masks for the health care workers," she said. "They are doing very important work for our community and I'm glad I could do something to help!"
In addition to dozens of individual volunteers, San Benancio 4-H, Monterey Quilting Guild and Masks for Monterey County played a significant role in the project. Last week, volunteers received an orchid donated by Salinas-based orchid grower Matsui Nursery.
"We are looking forward to the day we can invite volunteers into the hospital to go back to normal," Ferguson said. "In the meantime, if you'd like to join us for this great cause, we always welcome new faces."
To join the Volunteer Auxiliary, apply online at natividad.com/volunteer.