Natividad Nationally Recognized with an 'A' for the Fall 2020 Leapfrog Hospital Safety Grade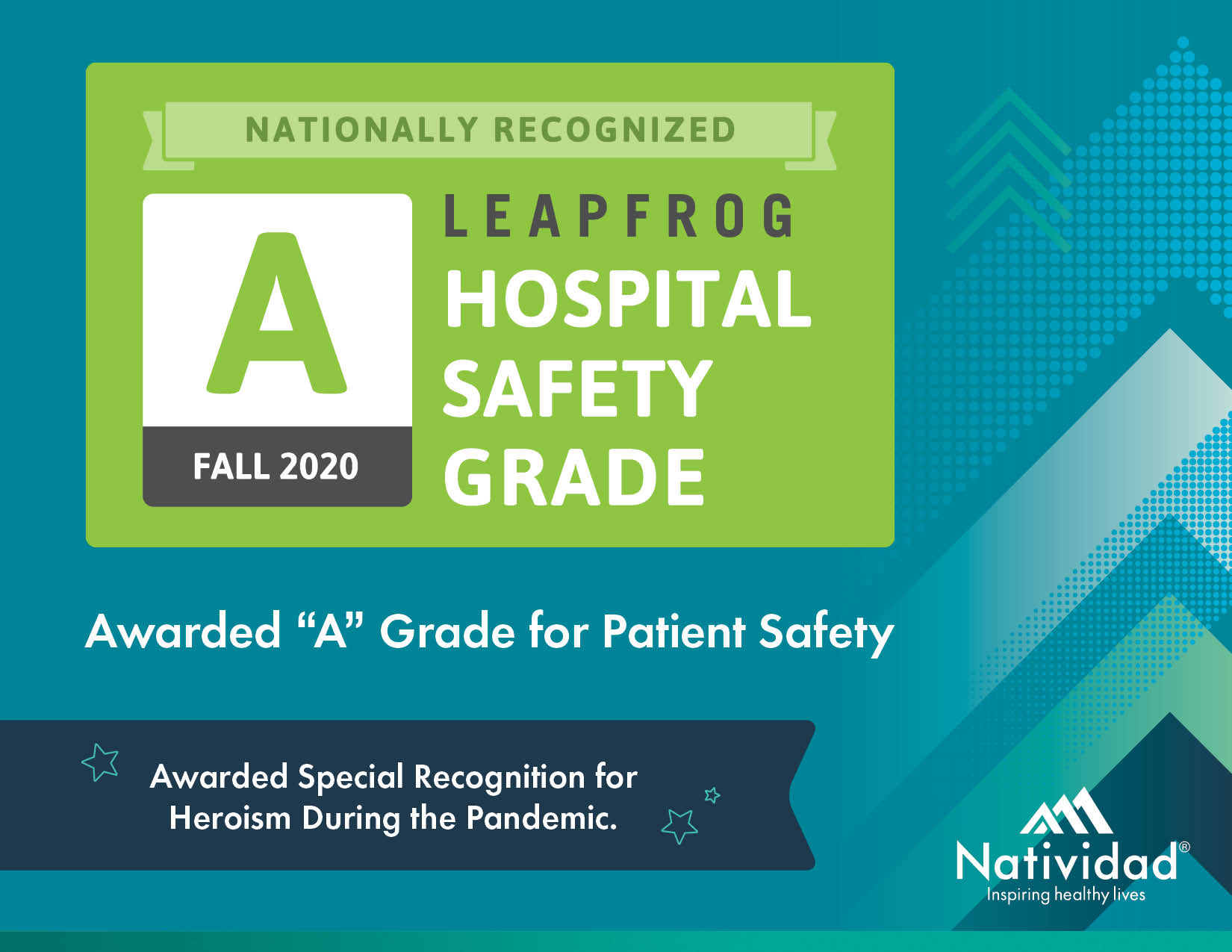 Hospital also Receives Special Recognition for Pandemic Heroism
The Leapfrog Group, an independent national watchdog organization committed to health care quality and safety, has once again awarded Natividad Medical Center an 'A' in the fall 2020 Leapfrog Hospital Safety Grade.
The 'A' award is a national distinction recognizing Natividad's achievements in protecting patients from harm and providing safer health care. The Safety Grade assigns an 'A', 'B', 'C', 'D' or 'F' grade to all general hospitals across the country and is updated every six months. It is based on a hospital's performance in preventing medical errors, injuries, accidents, infections and other harms to patients in their care.
"Keeping our patients safe is always at the forefront of our mission," said Natividad CEO Dr. Gary Gray. "Our dedicated nurses, doctors and staff continue to prioritize our patients and their safety as we face COVID-19 pandemic."
Developed under the guidance of a national Expert Panel, the Leapfrog Hospital Safety Grade uses up to 27 measures of publicly available hospital safety data to assign grades to more than 2,600 U.S. acute-care hospitals twice per year. The Hospital Safety Grade's methodology is peer-reviewed and fully transparent, and the results are free to the public.
At last week's 2020 Leapfrog Annual Meeting, Natividad also received Special Recognition for Heroism During the Pandemic.
"The COVID-19 pandemic has required hospitals and people who work in hospitals to sacrifice and lead as never before. We are honored to give special recognition to Natividad for their heroism during the pandemic," said Leah Binder, president and CEO of The Leapfrog Group. "We thank them for their profound service to their community and their powerful example for all Americans."
Hospital Safety Grade results are free and available to the public. To see Natividad's full grade details, visit hospitalsafetygrade.org.