New Care Center Gets Better Outcomes With 3D Mammography
October 17, 2018
Peak Health
State-of-the-art breast screening is reducing patient anxiety and time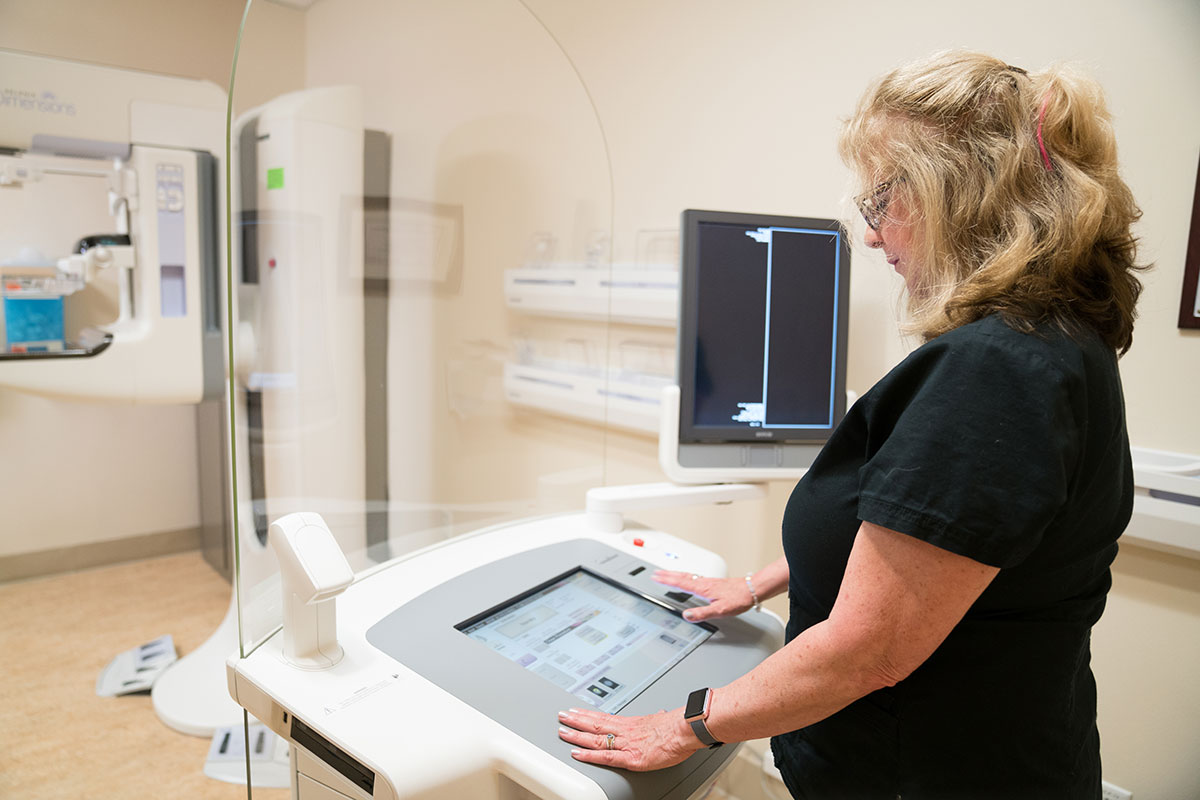 Photo: Radiologic Technologist Cheryl Reeves analyzes images from the 3D digital mammography system at Natividad's Care Center.
When Natividad purchased its state-of-the-art digital 3D mammography system, it was a game-changer for patients.
As the first to adopt the system in Monterey County three years ago, Radiologic Technologist Cheryl Reeves said Natividad's radiologists began finding some breast cancers at an earlier stage in some patients.
"With the 3D system, we're able to detect cancers that aren't necessarily seen in traditional 2D imaging," Reeves said. "This earlier detection corresponds with earlier treatment. And the earlier a patient gets treatment, the better the outcomes and chance of survival."
In March, Natividad moved its Hologic Selenia Dimensions 3D System and Women's Diagnostic Imaging to the newly constructed Care Center. Located in Building 400 at Natividad, the outpatient center offers women's diagnostics, bone density exams and ultrasound scans to women, regardless of insurance status or ability to pay.
"We make screening easy by offering the best equipment available in an accessible, intimate location," Reeves said. "Most of our staff is bilingual and it's important to us to that everyone feels welcome and comfortable here."
The 3D mammography system, also called digital tomosynthesis, or "tomo," makes screening quicker than a traditional 2D system. It typically takes four views and usually requires two compressions of each breast. The 3D system combines the newest technology with traditional mammography for easy and accurate comparison and allows the images of the breast to be examined in layers. Reeves likens the images she obtains to looking at slices of bread as compared to a whole loaf. The resulting 3D images can improve cancer detection by up to 30 percent compared to 2D images.
"

It's amazing, the power of one little image.
It can save your life.

"

— Radiologic Technologist Cheryl Reeves
"Our patients love how quick the 3D system is and I love the greater clarity and more accurate results we get," Reeves said. "When our first reading is more accurate, we see fewer false positives or need for callbacks. That means our patients can have less anxiety and avoid the time and expense of coming back for further imaging."
With 15 years of mammography experience, Reeves believes it's important to advocate for women's health and participates in everything from Relay for Life to bake sales to volunteering for the American Bone Health Association. She's also on the American Registry of Radiologic Technologists (ARRT) Standard Setting Committee for the mammography prerequisites and testing questions.
Natividad and most referring physicians recommend an annual screening for women starting at age 40. If results are found to be normal, women should return for their next routine screening based on their physician's recommendations, usually every one to two years.
"Size doesn't matter in breast cancer," she said. "As women, it's important that we're all proactive in getting care."
Reeves urges women in Monterey County to mark October's Breast Cancer Awareness Month by getting a referral from their physician and making an appointment at Natividad's Care Center. "It's amazing, the power of one little image. It can save your life," she said.
To make an appointment for Women's Diagnostic Imaging, contact (831) 772-7642.
Quick Facts
Every 2 minutes a woman in the U.S is diagnosed with breast cancer
1 in 8 women will develop breast cancer in her lifetime
Nearly 26,000 women are diagnosed with breast cancer in California each year
70%+ women are diagnosed who have no family history of breast cancer
#1 – breast cancer is the leading cause of death in U.S. women ages 40 to 55
Recommendations by The American Cancer Society
Women aged 40 to 44 years should have the choice to start annual breast cancer screening with mammograms if they wish to do so.
Women aged 45 to 54 years should get mammograms every year.
Women aged 55 years and older can switch to mammograms every two years or choose to continue yearly screening.