Two Patients Recover from Coronavirus After Months at Natividad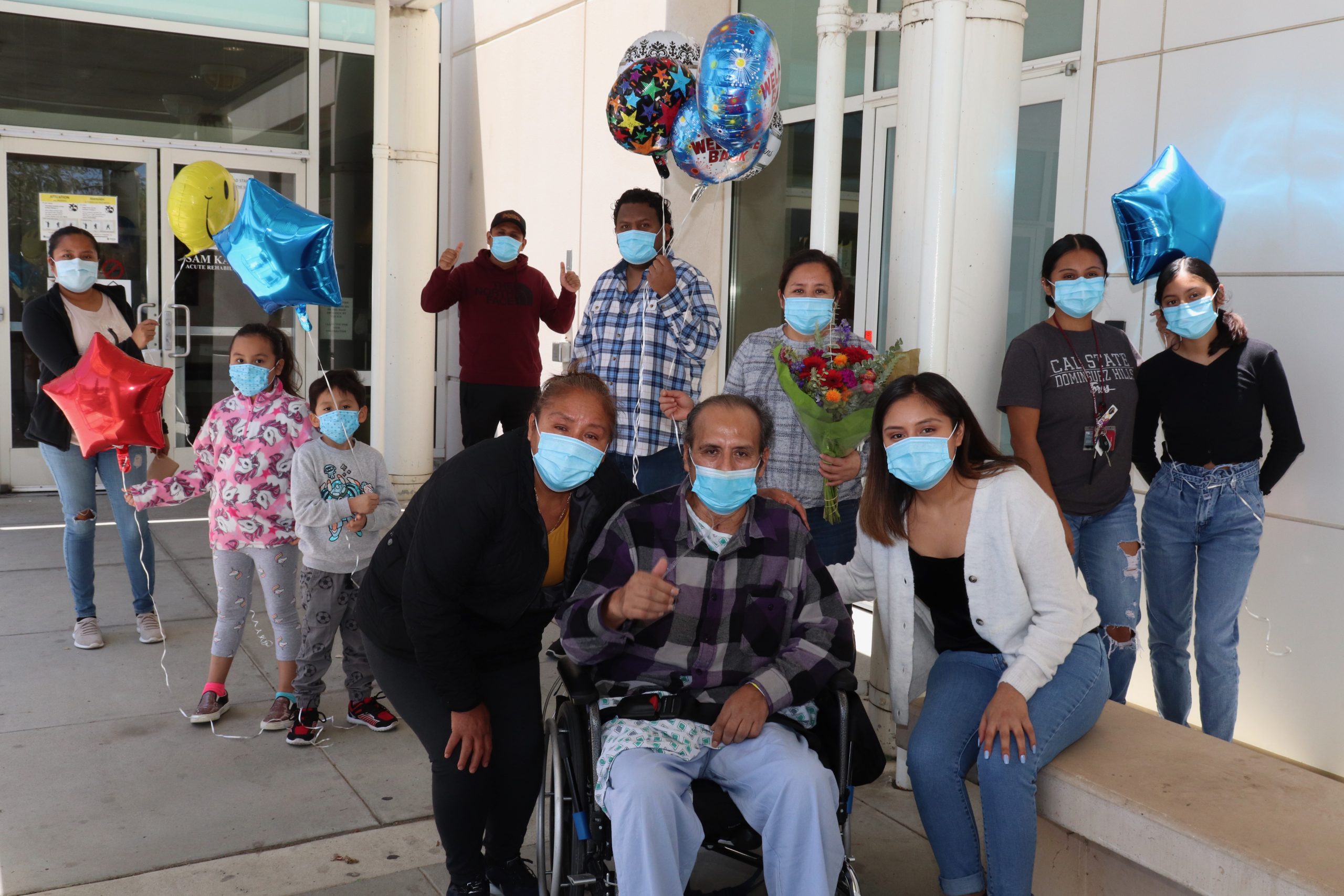 As Monterey County sees a spike in COVID-19 hospitalizations and positive cases, two Salinas residents who contracted the disease months ago are making remarkable recoveries after being treated at Natividad.
Once given a slim chance of survival, Anastacio Cruz, 59, was discharged from the hospital on June 29. It was the first time he saw his family in person since being admitted to Natividad on April 2. He spent half of those 13 weeks in a medically induced coma while a ventilator kept oxygen pumping to his lungs.
Hospitalized for six weeks, Aurora Vazquez, 44, was greeted with hugs and tears by her family as she left the hospital June 23. She spent 24 days on a ventilator and in an induced coma before recovering in Natividad's Acute Rehabilitation Unit (ARU).
Both patients were cared for in the Intensive Care Unit's (ICU) isolation rooms by Tony Medawar, DO, medical director of Pulmonary and Critical Care at Natividad. "Mr. Cruz was our first patient intubated in early April," he said. "Seeing this unexpected recovery boosted the morale of my staff. We know that we can change people's lives and make a difference in this pandemic."
Intubation is a process of inserting a tube through the mouth and then into the airway. The tube is connected to a ventilator, which helps a patient breathe. COVID-19 can attack the lungs and lead to respiratory failure and death. A mechanical ventilator takes over breathing and gets oxygen into the lungs. Patients must be sedated with medications, so they are in a medically induced coma when they are connected to a ventilator.
At first, Dr. Medawar and the team who took care of Cruz were not sure if he would make a recovery. "We are extremely blessed that Mr. Cruz is here. We kept going and trying everything. It has been an amazing come-back story. Every time I see him, I get the biggest smile on my face."
Aurora Vazquez
Vazquez has lived and worked in Salinas for 20 years. She has packaged romaine lettuce for two decades and loved her job. She had a known exposure to COVID-19 in March and was sent home from work to quarantine for weeks. She returned to work at the end of April and began to feel sick soon after.
"My body started to hurt, and I got a fever," Vazquez explained. "It felt like I had a fever on the inside of my body; but on the outside, I was cold."
As others have reported with COVID-19, Vazquez began to feel better and improve. However, the symptoms came back three days later, and they were more intense. She started coughing and experiencing shortness of breath.
"On May 10, I couldn't take it anymore and went to Natividad for testing. I didn't think I had COVID, but I had heard about it," she said. "I was very scared to come. Some people I know said not to go to a hospital, telling me it is dangerous, and I would die there. But, everything I had heard was untrue. The hospital saved my life."
After Vasquez was diagnosed with COVID-19 and admitted to the Intensive Care Unit, she was put into a coma and placed on a ventilator for 24 days. Though she was diagnosed with Type 2 diabetes during her hospitalization, she previously had no symptoms of the disease. Conditions like diabetes, and other underlying conditions such as lung, kidney or heart disease, can make people more susceptible to the virus.
"Ms. Vasquez was extremely sick," Dr. Medawar said. "At one point, we had to put her in a special bed so we could place her on her stomach to keep her body oxygenated. It's incredible what she had to endure and that she came out of this and made a recovery."
As her condition began to improve, Vasquez was taken off the ventilator and regained consciousness.
"When I woke up, I was very confused. I felt like my body and soul went to a different place; I was afraid," she said. "At first, I couldn't even walk. When they got me out of bed, my heart pounded."
After three weeks, Vasquez was moved to Natividad's Acute Rehabilitation Unit. "I kept telling my staff that I just wanted to see her smile. Throughout her stay, she appeared to be so scared," Dr. Medawar said. "When she was released from ICU and moved to ARU, we did a sendoff line, where we clapped and cheered for her as she was wheeled through the exit. She looked back at me, put her hands on her chest and smiled. This was huge."
In the ARU, Vasquez worked with physical therapists to relearn daily living activities, such as standing and showering. Doctors are hopeful she will make a full recovery.
"I am much better," she said. "Now, I can walk around. They gave me books and puzzles. I get to talk on the phone, Facetime and text with my family. My family came to visit at my window, and I remember I was in tears the first time I saw them."
Vazquez said she also wants people to know that COVID-19 is not a hoax. "I was so scared in the beginning, but Natividad gave me my life back. Everyone did everything they could to save me. And now, I am COVID-free."
Anastacio Cruz
Cruz lives in Salinas with his family: wife, two daughters, son-in-law, son and two grandchildren. Before he got sick, his daughter Isela Cruz said he had never been ill or hospitalized. While Cruz's age, 59, puts him at a slightly higher risk for complications due to COVID-19, he had no preexisting medical conditions that would make him more likely to nearly die during his fight with the disease. Dr. Medawar described Cruz as one of the most determined patients he has had — stoic and very strong.
On March 26, Cruz, who works in agriculture, developed mild body aches and went to see his doctor. There, he was given two medications and a shot and told to come back in several days to be reevaluated. He was not tested at the time for COVID-19.
"I was sick for eight days," Cruz said. "I felt very tired, and my feet hurt a lot. But it was several days before I got a cough. And then, the fever came. When I couldn't breathe anymore, I got scared."
He went to Natividad's Emergency Department, where he received care in a special medical tent where patients are tested and screened for COVID-19. Later that afternoon, doctors called his daughter and said her father had been put into coma, intubated and placed on a ventilator. "It was right when we had just been told to shelter-in-place, and we didn't know much about COVID-19. I just remember crying," she said.
Dr. Medawar described the first time he saw Cruz. "I ran downstairs, took one look at him and knew it would be a very long road. I am the one who intubated him and brought him to the ICU. He was on the verge of death almost every day, and he pulled through."
During his treatment, Cruz was on a ventilator for roughly six weeks. He endured many complications of being in an ICU including extremely low blood pressure, secondary lung infections and a lung collapse. He also had to undergo chest tubes and a tracheostomy for his complications. In total, Cruz spent 10 weeks in the ICU, where he was on varying levels of sedation.
"It is not common for someone to survive this," Dr. Medawar said. "I don't know that many people could have overcome what he did."
Isela Cruz said that her father got an infection while hospitalized. "We got a call from the doctor that we needed to prepare to lose him. He told us there was a strong chance that his heart would stop at any minute. I just remember asking him to do everything he could to save his life. He said, 'We are, and we will.' And, he hung up. We prayed like we had never prayed before."
Cruz's heart stayed strong, and his fever slowly began to come down.
His daughter called the hospital every four hours to check on him. "They knew me by name," she said. They were the first family to use Natividad's Virtual Visit program, a program that helps patients connect with their loved ones by video conferencing. As hospitals across the country adopted strict no-visitor policies, Natividad's nurses became concerned that patients would feel isolated from their families. Through the generosity of its donors, Natividad Foundation's COVID-19 Relief & Resiliency Fund purchased iPads for departments throughout the hospital. Nurses now help patients who do not have smartphones or tablets with the technology.  Natividad Foundation also helped fund the isolation unit and a medical tent where Cruz and Vazquez were treated. The areas help keep people with confirmed or suspected COVID-19 separate from other patients in the hospital.
"My whole staff loved Mr. Cruz and his family. We talked to them often and truly cared," Dr. Medawar said. "His daughter was tremendous — a rock for the family. We recognized how hard it was for our patients to not have their families physically by their sides, and we felt like it was part of our job to care for them in that way."
The family began doing Virtual Visits two weeks after he was admitted. "We had never seen our dad sick before and didn't know how we could deal with it," Isela Cruz said. "But, we knew we had to be strong and courageous. It was just heartbreaking — so heartbreaking."
His daughter said the nurses would hold the camera up so they could see his face. "They'd show us his whole body, the room and the medical equipment. Then, they'd put the tablet up to his ear," she said. "My mom, siblings and I would tell him to keep fighting and believing that God would help him get through this." The family watched from the tablet until he was finally well enough to leave the ICU.
He was transferred from the ICU to the medicine service in the Intermediate Care Unit. At this point, he was only days away from being discharged to the ARU.
"Every one of us knew and cared for him," said Erika Romero, MD, resident physician at Natividad. "I remember he was more short of breath one morning, and he was still very strong stating, 'I just have a little bit of chest pain on my left side, but not much.' We conducted a chest x-ray that showed a collapse of his lung. I remember we went to talk to him about what this meant, explaining that he would need a chest tube placement. We said, 'this is a small step back, but it is treatable.' Later that day, I went to his room, he said, 'Ya estoy cansado, es mucho,' (I am tired, it is too much). I said 'No, you have your daughters.' His face immediately changed, he smiled and nodded."
Dr. Romero added, "Mr. Cruz is an inspiration to us all; I told him this myself. His courage to live, to fight and his resilience is truly admirable. He is kind, strong and has a loving, supportive family, which I know drove his determination to survive."
When he was finally well enough, Cruz was transferred to the ARU. He spent weeks there, just rooms apart from Vazquez. He exercised with Natividad's therapists and worked on developing mobility and strength.
After almost three months in the hospital, Cruz was discharged to go home on June 29. His family was there to greet him. While he no longer has COVID-19, it will take time for him to fully recover from its effects on his body.
"I don't wish this on anyone. It is very hard. I suffered a lot. But thank God, I am getting stronger," Cruz said. "I have a wonderful family. They were always there. I just want to hug my family — hug them very tight."