Our Quality Commitment
Natividad is dedicated to the people of Monterey County to provide the best possible care to each patient. Our team of dedicated physicians, nurses and staff are committed to delivering high quality and safe patient care.
Natividad is accredited by The Joint Commission (TJC) which is recognized world-wide as a symbol of quality which reflects our commitment to ensure that evidence-based quality and safety standards are followed. In addition, our Sam Karas Acute Rehabilitation Center is accredited by the Commission on Accreditation of Rehabilitation Facilities (CARF). Please visit our numerous quality designations and recognitions on the Awards page of this website that further demonstrate Natividad's commitment to excellence in quality and safe patient care.
Continuous Improvement
Quality and Patient Safety is a collaborative effort of leadership, physicians, nurses, employees, and our patients. Natividad fosters a culture of safety that focuses on patient and family centered care. At Natividad, our healthcare team takes great pride in the quality of care they deliver and we continuously strive to improve the care provided to our patients.
Natividad has multiple performance improvement projects and teams to review patient care practices and make changes that will result in better care. Examples of these include Daily Patient Care Huddles, Diabetes Education and Treatment, Antibiotic Stewardship, Medication Error Reduction, Sepsis Management, Infection Prevention, Care of the Critically Ill Child in the Emergency Department, Patient Flow, Readmission Reduction, Fall Prevention, Environmental Safety, and Hand Hygiene.
Natividad has partnered with multiple state and national organizations that provide support and guidance to help hospitals improve the safety of healthcare systems. Some of these include California Hospital Association, Institute of Healthcare Improvement (IHI), National Patient Safety Foundation (NPSF), California Health Care Safety Net Institute, Hospital Quality Institute, California Hospital Patient Safety Organization (CHPSO), and California Maternal Quality Care Collaborative (CMQCC).
Measuring Quality
One way hospitals measure quality and safety is through monitoring key performance metrics that can help improve patient outcomes. We believe that sharing our data on our website allows the public to see the excellent patient care we provide in comparison to state and national benchmarks.
Here are some Natividad quality indicators where LOWER rates are Better.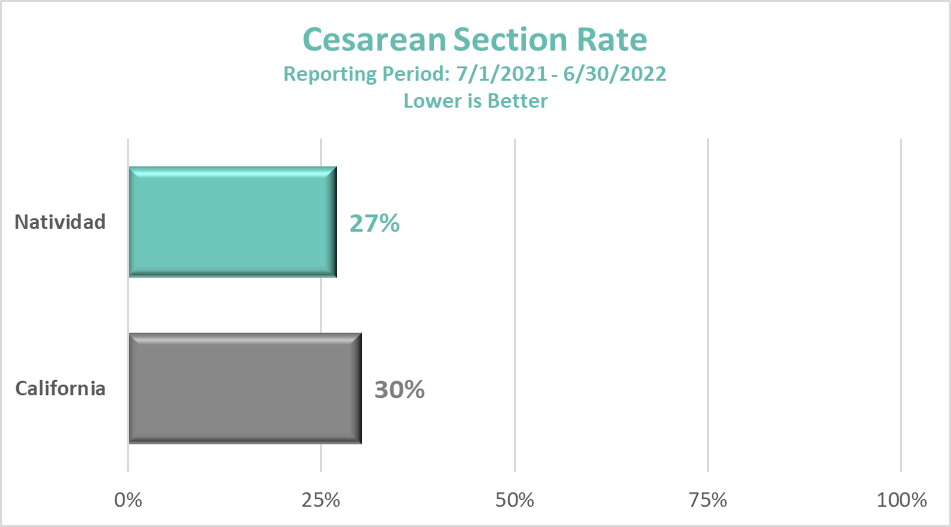 Natividad has a lower Cesarean Section rate because we support natural childbirth.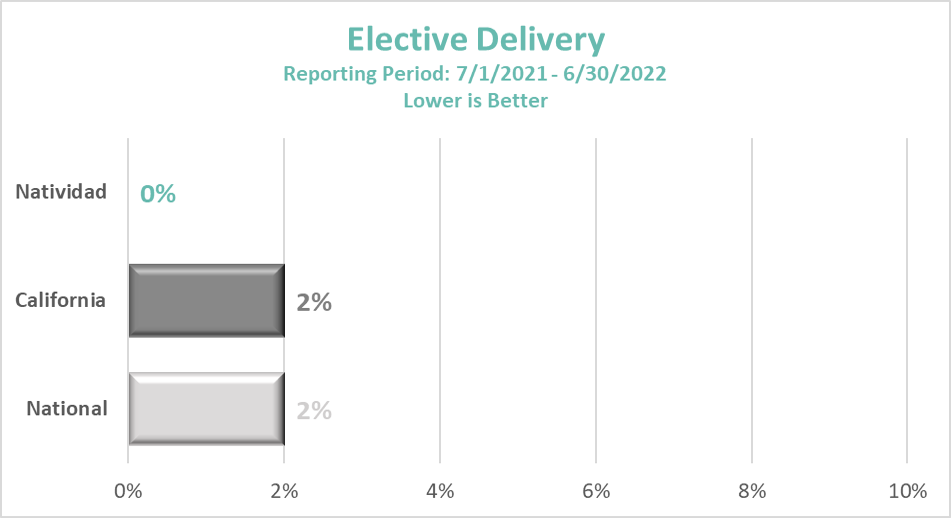 Elective Delivery
Patients that have an elective vaginal delivery or elective cesarean birth at >= 37 and < 39 weeks of gestation completed.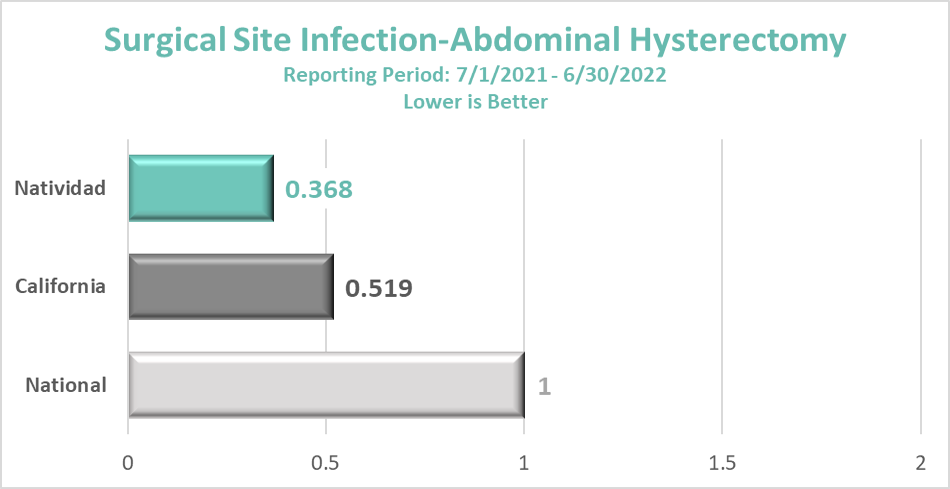 Surgical Site Infection – Abdominal Hysterectomy
Surgical Site Infection after an abdominal hysterectomy is an unanticipated infection that occurs after a patient has a hysterectomy when the incision for the surgery is made through the abdomen. Natividad surgeons follow nationally recognized guidelines when performing surgical procedures to decrease the risk of infection.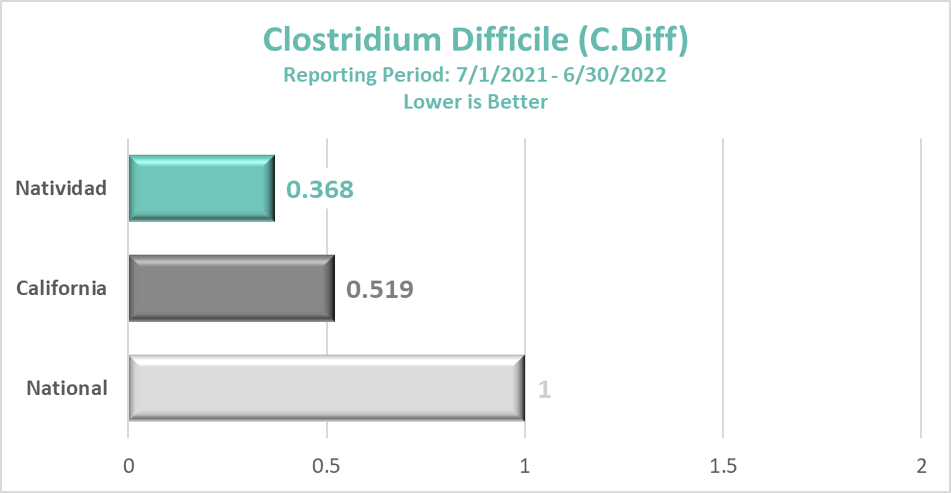 Clostridium Difficile (C. Diff) infection causes severe diarrhea and can be spread through dirty hands and unsanitary environments. At Natividad we reduce C. Diff infections by performing good hand washing and high quality cleaning of medical equipment, patient rooms, and bathrooms.
Here are some Natividad quality indicators where HIGHER rates are Better.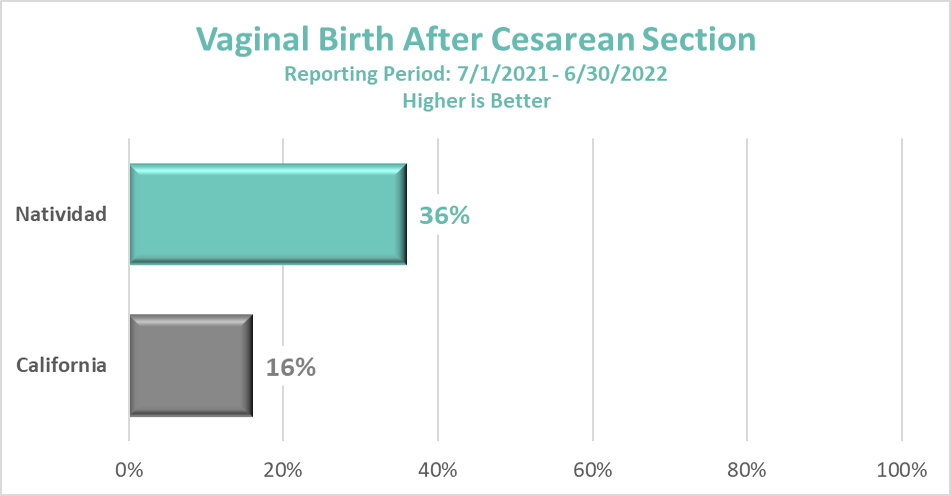 Vaginal Birth After Cesarean Section (VBAC) is high at Natividad because we were the first hospital in Monterey County to offer this alternative to prevent repeat Cesarean Sections.
Data Sources: Hospital Quality Institute, California Maternal Quality Care Collaborative (CMQCC), OSHPD Inpatient AB2876 Discharge Files, CMS Hospital Compare. Data updated locally when more current information available.