1st Year Residents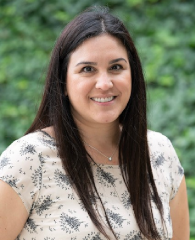 Guadalupe Arreola, MD
Medical School: UC Davis A first-generation Mexican-American, I was raised in Southern California. I graduated from UC Davis with a Bachelor's of Science in Viticulture & Enology and a minor in Chicanx Studies. I worked as a Spanish interpreter at several sliding scale clinics, studied abroad in the Latinx Health Internship program in Oaxaca, MX and participated in the Cuba AIDS project.
After college, I returned to my hometown in the San Fernando Valley and joined Comision Femenil, a nonprofit organization dedicated to improving the quality of life for Latinas through education, leadership development, and community involvement. I also worked as a study coordinator at a Neurology clinic, before applying for the UC Davis School of Medicine Post-Baccalaureate program.
My desire to use medicine as a vehicle for advocacy and positive social change led me to focus on community engagement and psychiatry in medical school. I completed a fellowship in Child Adolescent Psychiatry, and was awarded the United Health Foundation/National Medical Fellowship. As a medical scholar I was able to partner with providers and parents from economically distressed communities to raise awareness of early language exposure and its role as social determinant of health.
My professional interests include increasing access to family planning services, integrating mental health services into primary care, investigating racial and ethnic disparities in adolescent pregnancy, health disparities among sexual minorities, but I enjoy all aspects of Family Medicine. Outside of medicine, I love the outdoors, road trips, dogs, cooking, board games, spending time with friends and family, especially my seven nieces and nephew.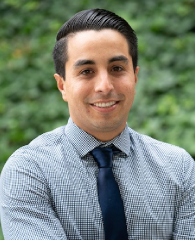 Gabriel Flores Jr., MD
Medical School: Universidad Autonoma de Guadalajara I grew up in Los Angeles in a close-knit household consisting of my mother, father, and three younger siblings. My father is an immigrant from central Mexico and my mother an immigrant from Colombia. Growing up I spent my summers changing tires and doing basic mechanic work at my father's mechanic shop. These experiences gave me a clear sense as to the importance of hard work and perseverance. I was fortunate to stay in sunny southern California for college at USC (Go Trojans!). My passion for providing medical care for vulnerable populations stems from completing a medical brigade in rural Honduras. After graduating from college, I moved to Jalisco, Mexico to attend medical school at the Universidad Autonoma de Guadalajara and completed my clinical clerkships in Phoenix, Arizona.
I feel privileged to return to California and provide full-spectrum care for the underserved community of Salinas. I am excited to use my fluency in Spanish and familiarity with the Latino culture to make a positive change in the health of my patients.
Outside of medicine, I enjoy watching and playing soccer, going for runs, mountain biking, and traveling.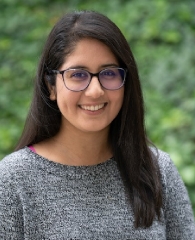 Jasmine Garcha, DO
Medical School: Western University of Health Sciences Before joining the Natividad family, I grew up in Livermore, CA in the east Bay Area with my parents and two younger siblings. As a kid, I loved to read and back then I thought I would grow up to be an author. Over time, my love for reading remained but the subject of the books changed. I studied biological sciences at UC Davis and then earned my medical degree at Western University of Health Sciences in Pomona, CA.
Throughout my education, I found myself drawn to primary care, where the potential to empower patients to take control of their health is endless. As a family physician, my goal is to serve those with the greatest need and the least access to care. I feel so excited and privileged to be joining the Natividad family to learn full-spectrum family medicine and adopt their value of community wellness.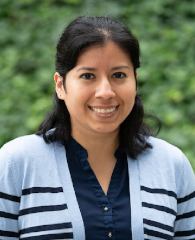 Vivian Garcia, MD
Medical School: Alpert Medical School of Brown University I was raised in the Inland Empire in Southern California up until I graduated high school, at which point I decided to explore new surroundings, culture, and weather by moving clear across the country to Providence, Rhode Island. I graduated with a degree in Human Biology and Comparative Literature with 3 languages from Brown University. I then went on to attend the Warren Alpert School of Medicine at Brown. During this time, I found that one of my favorite parts of medicine was connecting with patients and helping them understand their illnesses. I enjoyed volunteering at a free clinic helping underserved and uninsured individuals.
In my free time, I enjoy watching movies and television, or taking a scenic hike. I am very excited and honored to start my journey with the Family Medicine Residency at Natividad and continuing to explore my interests in medicine.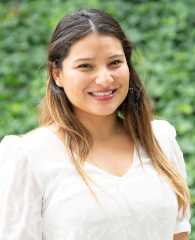 Ericka Jaramillo, MD
Medical School: Icahn School of Medicine at Mount Sinai Originally from Ecuador, I moved to NYC at the age of 4 with my mom and abuelita. I majored in Spanish Literature and Language at CUNY-Hunter College and went to med school at Mount Sinai. While there, I was lucky enough to be exposed to various clinical research settings in the Dominican Republic and Uganda.
I am so excited to join the Natividad Family Medicine residency program, where I hope to become a well-rounded, competent physician and researcher! My medical interests include global health, women's health, and working in underserved communities.
Outside of work, you can find me in Zumba or yoga classes, but I prefer to cook and eat. I enjoy reading and listening to podcasts. ¡Estoy muy emocionada de empezar una nueva etapa en medicina familiar y comunitaria en Salinas!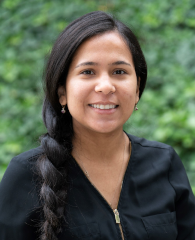 Linda Jimenez, MD
Medical School: University of Missouri I was born in Miami and lived in Managua, Nicaragua for a couple of years before moving to Colorado, which I consider my home state. I attended Colorado College with a double major in Molecular Biology and History. I spent a year doing research on leukemia at the University of Colorado before attending medical school at the University of Missouri in Columbia.
During medical school, I volunteered with many organizations including MEDZOU, a student-run free clinic for Columbia's uninsured population; establishing LMSA, representing Mizzou as a student ambassador; paying it forward by tutoring underclassmen and supporting medical educational outreach through Caleb Science Club.
Within family medicine, my interests include global health, women's health, procedures, medical education, emergency medicine, rural medicine and humanism in medicine. I hope to learn and give much in return while at Natividad. I look forward to being close to both the ocean and the mountains on my journey westward. After residency, I hope to get involved in humanitarian efforts abroad before returning to the United States to find my ideal practice location.
Outside of medicine, I love board games, hiking, traveling, food, writing, photography, period pieces, ancient artifacts, painting, archery, marksmanship, cooking and 3D puzzles.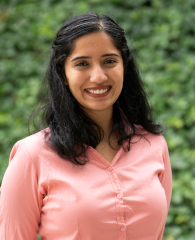 Malavvika Kulashekar, DO
Medical School: Chicago College of Osteopathic Medicine I spent my early childhood in Mumbai, high school years in Cupertino, and graduated from UC Santa Cruz with a BA in Psychology. From a young age, watching my family constantly seek medical care, I became acutely aware of the importance of preventative medicine. Before medical school, my experience volunteering with a free clinic in Mountain View cemented my love for Family Medicine. During my clerkships, I discovered joy and fulfillment in bridging healthcare disparities. I decided that I would train with a county hospital, working closely with underserved communities. My interests within the field of Family Medicine include palliative care and women's health.
Outside of medicine, I am a strong advocate for conservation and sustainability. When I'm not working, you can find me exploring locales with my camera, baking something delicious for my friends and family, and devouring vegetarian tacos en masse (kindly direct me to your favorite taqueria in Salinas). Also, I am compiling a list of unusual dog names, and am accepting new entries at this time.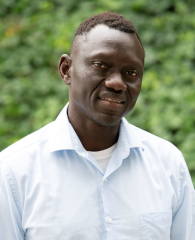 Alex Logono, MD
Medical School: American University of Antigua I was born in South Sudan, fled my country when civil war broke out and survived ten years in a refugee camp in Kenya. At a very young age I learned to provide care for those in need, working as a medical assistant in the Kakuma Refugee Camp Hospital in Kenya, where I enjoyed the opportunity to provide health education on HIV/AIDS and other communicable diseases, examine and diagnose patients, and even provide treatment to fellow refugees.
My life turned upside down in 2001 when I became one of the "Lost Boys of Sudan" selected by the US government to resettle in America. Not long after the move, I began my college education in New York and worked as a nursing technician at a local hospital. My experiences as a survivor and refugee inspired me to become a medical doctor. I graduated from SUNY Albany and received my MD from the American University of Antigua College of Medicine.
I enjoy outside activities, like playing soccer and running. I speak several languages including fluent Moru, Arabic, Swahili, and basic Spanish. I am currently living in Salinas with my family and look forward to serving the people of the Salinas Valley.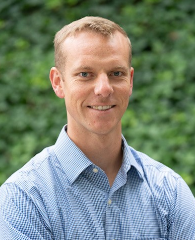 Stephen Matzat, MD
Medical School: Icahn School of Medicine at Mount Sinai I grew up in the golden foothills of California's Sierra Nevada Mountains and earned a degree in Human Biology at Stanford University. I was drawn to New York City where I studied medicine at Mount Sinai and am now excited to return to California to train at Natividad's Family Medicine Residency.
I am motivated by social justice issues and hope to play a role in shaping healthcare systems that are more accessible and welcoming to historically marginalized communities. I look forward to connecting with the people of Salinas around a shared goal of better individual and community health. Outside of medicine, my passions run the gamut from crochet and crosswords to technology and travel.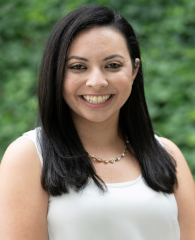 Erika Romero, MD
Medical School: American University of the Caribbean I was born and raised in Los Angeles, CA to Salvadorian parents. My interest in medicine was sparked early on and was enhanced as I witnessed healthcare disparities in my own community growing up. I became involved in various community organizations that provide resources and programs to help underserved populations. After attending college at UC Santa Barbara, I moved to St. Maarten for medical school at AUC. My clinical rotations across a wide range of communities cemented my desire to practice full spectrum Family Medicine, where I can work with people of all ages and walks of life.
In my free time, I enjoy dance, yoga, pilates, coffee, and spending time with my fiancé, friends, and family.
2nd Year Residents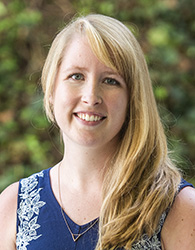 Kelsey Capron, MD
Medical School: Sidney Kimmel Medical College at Thomas Jefferson UniversityAfter growing up in the beautiful Monterey Bay area for the first 18 years of my life, I moved to far-away Pennsylvania to attend Haverford College, where I studied Biology & French. Then, I cultivated a taste for adventure during two brief periods of living in Paris, France. My interests in maternity care, global health, and serving underserved populations blossomed while I briefly lived in Haiti and volunteered at a maternity center. I spent two years in Boston, MA doing research before returning to Philadelphia, PA for medical school.
During medical school, I helped run free clinics for Philly's homeless population, I researched "housing first" as a solution to chronic homelessness, and I became involved in advocacy and education around issues of global health and socioeconomic injustice. Now, I have the great pleasure of having returned to my roots for local full-spectrum training in family medicine at Natividad! Although I feel called to the path of family medicine for many reasons, my particular interests include family planning and reproductive health, obstetrics, homeless/street medicine, addiction medicine & harm reduction, global health, accompaniment and humanism in medicine.
Outside of the medical realm, I love board games, hiking, singing and playing ukulele, yoga, cross-country skiing, traveling & exploring new cultures, and spending time with family (who, by the way, are scattered as near as Aromas, CA and as far as Illinois, New Orleans, New Jersey, Norway, Chile, Malaysia…!). It's great to be back home!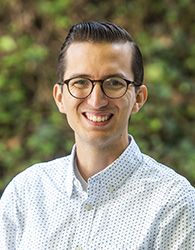 Alvin Cardona, MD
Medical School: Loma Linda University I was born and raised on the beautiful island of Puerto Rico, followed by a move to Arkansas to earn a BA in Theology. While completing my degree, I had the opportunity to spend many of my summers volunteering in Nepal doing health and community development. The people and stories I encountered sparked an awareness of the health and social disparities affecting vulnerable populations all around us.
These experiences led me to pursue medical education at Loma Linda University in California. As a medical student, I found purpose in leading street medicine outreaches, pursued further training in tropical medicine and developed a passion for whole-person-care. Since my wife and I moved to the Salinas Valley for residency, we have been so happy to be a part of a program that has such a strong commitment to serving vulnerable populations. I believe that the strong, full-scope training will give me the best preparation for a career in global medicine.
Outside of work I enjoy spending time with my wife, endurance running, podcasts, flying and most anything involving the great outdoors.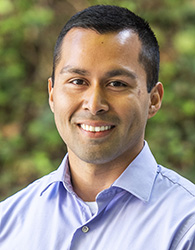 Cristian Carrillo, DO
Medical School: Western University – Pomona, CA Growing up in the Bay Area, everything was loud, spicy, and in Spanish. My parents immigrated to Los Angeles, bringing with them the culture of Mexico. Settling down with four children in San Jose, they emphasized our continual development through education, something unattainable to them in rural Mexico.
I attended community college, though I was undecided on a career path. Around this time my grandmother became ill, and I would often take her to doctor appointments and serve as her translator. Caring for her and meeting her doctors sparked my interest in medicine. When she passed away, I knew in my heart that becoming a physician and caring for others was my calling. I transferred to CSU Monterey Bay and graduated with a bachelor's degree in biology. Shortly after, I began medical school at Western University in Pomona, CA. I discovered that, because of my Spanish-speaking ability and cultural background, I thrived when working with Latinos and other medically underserved populations. I decided early on to dedicate myself to caring for the underserved, with particular interest in Latino patients. This motivated me to compete for the National Health Service Corps Scholarship Program, which I was awarded during my first year of medical school. I also joined the Latino Medical Student Association, and served as vice president for my chapter.
During medical school, my wife and I got married, adopted a puppy, and had our first baby, and we had our second baby after I began my training here at Natividad. Our two daughters love discovering the world and, like their parents, their favorite place is the beach. Our dog Cashew loves to go out for walks with us, especially if we start jogging. Exercise is my stress reliever and I enjoy running, swimming, hiking, meditation, and martial arts. I am honored to be back home for my training, and to be embarking on a career caring for Latinos and the medically underserved.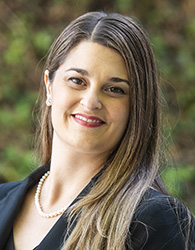 Brittany Chamberlain, MD
Medical School: Ross University School of Medicine I grew up in the San Francisco Bay area. I attended San Jose State University and am a graduate of Ross University School of Medicine, where I served as Honor Council President and also spent my time exploring the island of Dominica. I enjoy working with patients of all ages, helping them to establish a healthy foundation on which to continue to build a healthy and successful future.
I am especially grateful for my Natividad family and I enjoy exploring all the beautiful scenery this area has to offer with my colleagues. The multitude of restaurants, beaches, forests and hills allow for fun and adventure at a moment's notice. Hiking Point Lobos, dining in Carmel, exploring the Santa Cruz Redwoods and kayaking on the Elkhorn Slough at Moss Landing, watching the baby otters and their mamas share dinner, have been a few of my favorite experiences. I also love venturing out to tour the wineries and landscapes of Paso Robles with my family and colleagues.
I say, "Get outside and get active!"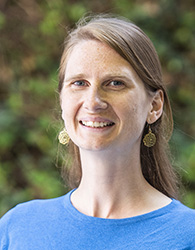 Brianne Huber, MD, MPH
Medical School: Mount Sinai in New York City I grew up with four brothers in rural, agricultural North Dakota. With an interest in social justice and underserved populations, I worked as a Peace Corps Volunteer in Kyrgyzstan before earning my medical degree and masters of public health at Mount Sinai in New York City. Here in Salinas, I enjoy learning about Mexican-American culture and going to the local farmers' markets. As a physician, I am especially interested in women's health, global health, and emergency medicine.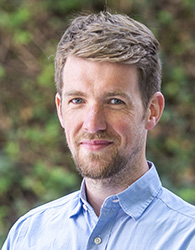 Adrian Jordan, MD
Medical School: National University of Ireland in Galway I grew up in Ballinasloe, a market town in the west of Ireland which serves as the focal point for its neighboring rural communities. Following completion of my medical degree at the National University of Ireland in Galway, I graduated from the Western Training Scheme in General Practice and became a member of the Irish College of General Practitioners.
Family Medicine has always interested me because it encompasses a wide body of knowledge and broad skill-set as well as allowing the development of a trusting relationship between a patient and their doctor; I love being able to care for people of all ages and backgrounds. Everybody deserves access to excellent healthcare and I am delighted to be working with all of the staff at Natividad in striving to provide this.
My wife and I are delighted to welcome a new addition to our family, our daughter Aoibhín. Since moving here, we have really enjoyed getting to know the warm and welcoming people of Monterey County, as well as exploring the beautiful surroundings. I love spending time with my family, whether we're exploring the outdoors or going to the cinema. Nos encanta estar al aire libre y estar cerca del océano. Además de trabajar en Natividad y aprender español, también disfruto mi otra pasión, ¡jugar fútbol!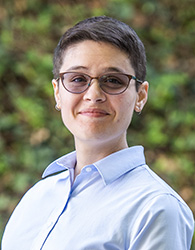 Rose Lovell, MD
Medical School: Frank H Netter MD School of Medicine at Quinnipiac University After spending my early childhood in the urban jungle of Los Angeles, the redwoods of the Santa Cruz Mountains became where I call "home". While earning my psychology degree at San Jose State University, I discovered the joy of medicine as a volunteer at Planned Parenthood in Santa Cruz. I was proud to join my medical school class at my almost-brand new medical school, the Frank H Netter MD School of Medicine at Quinnipiac University. It was well worth the temporary relocation to Connecticut. I am passionate about providing full spectrum primary care as a family medicine physician. I have a particular focus on the health needs of underserved communities, with prior experience focusing on gender and sexual minority health including LGBT health.
In our spare time, my wife and I run the local trails and enjoy our time with our three beautiful cats. I'm honored to be a part of the Natividad team, and I enjoy serving patients and communities in and around Salinas the best I can.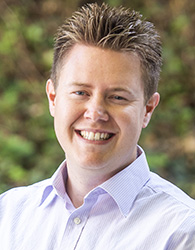 Austin Shoener, MD
Medical School: American University of the Caribbean School of Medicine I grew up in the very busy city of Orlando Florida, in a loving family dedicated to watersports, sunshine and entertainment! My parents were professional water-skiers so naturally my sister and I developed a passion for the water as well. It was in college, at the University of Central Florida, that my passion for medicine truly blossomed as my love for science and healthcare took root while assisting in the care of my grandmother. The knowledge I gained from her healthcare providers only fueled my passion for the pursuit of medicine.
Having never lived outside the country and yearning for adventure, I took my studies abroad to the American University of the Caribbean. The opportunity to pursue medicine in one of the most beautiful places in the world, meeting some incredible mentors, and assisting in the care of patients from all walks of life was more than I could have asked for from the beginning of my medical career. During this time I was even fortunate enough to meet my soon-to-be wife, who I now practice alongside of here at Natividad!
When I'm not focused on work, I like to look for adventure. Scuba diving in Monterey, skydiving, watersports, beach volleyball in Seaside, and beach time in Carmel are some of my favorite activities. I enjoy exploring all that the great state of California has to offer and look forward to discovering even more!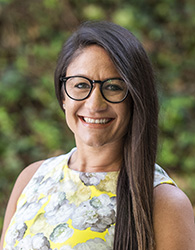 Jacqulyne Sylvia, DO
Medical School: AT Still University, School of Osteopathic Medicine I grew up in Sacramento California as the youngest of three children. I attended California State University, Fullerton where I received a Bachelor's of Science in Cellular and Developmental Biology and a minor in Chemistry. I then attended AT Still University, School of Osteopathic Medicine in Arizona for medical school. During medical school, I explored my passion for serving underrepresented populations and began to understand the value in whole-person health care. I spent time abroad during medical school learning basic medical Spanish and working with impoverished communities to understand their barriers to health care. I also run a Non-Profit named "Hot Pink Bows" that is dedicated to delivering hand-made hair bows, head scarves, and other gifts to young cancer patients in the community. I enjoy working at a residency program that offers a strong clinical framework and is committed to bettering the lives of their patients beyond providing medical care. My special interests within medicine include women's health and pediatric care.
I appreciate living in the Monterey Peninsula where the beach, wine tasting, and beautiful hikes are plentiful. In my spare time, I also enjoy spending time with my family, playing with my 6-year-old Great Dane, painting, and, traveling.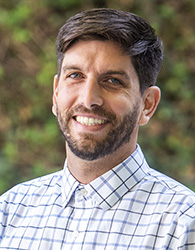 Francesco Tani, DO
Medical School: Michigan State University College of Osteopathic Medicine I am a first-generation American, born and raised in the Bay Area. I attended the University of California Santa Cruz for my B.S. in Neuroscience and Behavior. After undergrad, I worked as a tutor and instructor for a local company in Cupertino, and as an Emergency Department Navigator and Smoking Cessation Advisor at Stanford. I also worked as a Research Intern at San Francisco General Hospital. I moved to Detroit for medical school at Michigan State University College of Osteopathic Medicine. During medical school, I worked with a local clinic which primarily treated LGBT people and those living with HIV. I was also an assistant for Histology and worked with Detroit Street Care. My interest in primary care developed from my experience as a child from an immigrant family and an LGBT individual. I am so pleased to be back on the central coast, living near my family again. My interests include health disparities affecting minority populations, HIV/AIDS and sexual health, preventative medicine, and LGBT issues in medicine.
My goal in life is to prove sunbathing is as healthy as exercise. I also love coffee and wine. Parlo Italiano.
3rd Year Residents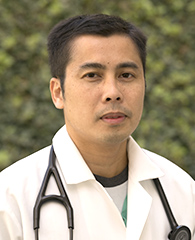 Jose Ajoc, Jr. MD
Medical School: Mindanao State University College of Medicine I was born and raised in rural Surigao, Philippines. Since I was a kid I have always wanted to be a doctor, after seeing wounded soldiers during the height of political unrest in my country. Fortunately, I was granted a scholarship to pursue my dream. I attended Mindanao State University College of Medicine, a problem-based and community-based school in the Philippines where I enjoyed learning and working with the underserved communities.
Right after medical school, I worked for several years in a rural hospital. Receiving a simple "thank you" or a bunch of bananas and a decent salary was very fulfilling. The thirst for more knowledge encouraged me to complete Internal Medicine Residency in Zamboanga, Philippines and at the same time work as a faculty member in a community-based medical school. After experiencing the effects of political uncertainty, my family made the difficult but fulfilling decision to move to the US. I am grateful to have joined the Natividad family to pursue my passion to serve the underserved communities.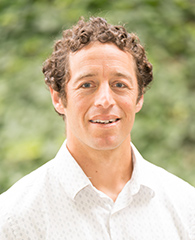 Joshua Deutsch, MD, MPH
Medical School: University of Wisconsin School of Medicine and Public Health I'm thrilled and honored to practice medicine at Natividad. I came here to serve an incredible patient community with significant unmet medical needs. I also appreciate the opportunity to live in one of the most beautiful regions of the world. I received my MPH from UC Berkeley in 2005 and proceeded to initiate self-directed nutrition and sanitation projects in rural Central America. I subsequently founded a landscape construction company called Backyard Food Gardens, which I managed for seven years.
My interests include gardening, construction, biking and political activism. I spend most of my free time with my wife Seema, my adorable 3-year-old son Jayden, and my 1-year old son Ishaan, who was born at our very own hospital.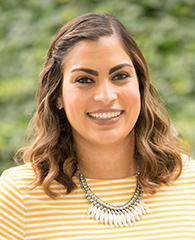 Alejandra Espinoza, DO
Medical School: A.T. Still University School of Osteopathic Medicine I am first-generation American, born and raised in San Francisco. I attended San Diego State University where I graduated with a Bachelor's of Science in Biology. Following my graduation, I spent time working as a medical assistant for an orthopedic surgeon in the Mission District in San Francisco where most of our patients were low-income, uninsured Hispanics. It was during my time there where I developed a passion and dream to become a medical provider for the underserved. I was drawn to Natividad to get full scope Family Medicine training while serving the community of Salinas.
Besides my passion for medicine, I enjoy spending time with my husband, Stephen, and our 7-year-old chocolate Labrador, Remington, family time (especially with my three handsome nephews, Donovan, Roman, and Joshua), eating out, working out, hiking, and reality television (guilty pleasure!).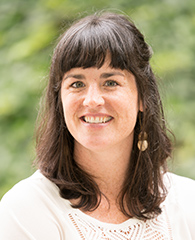 Anne Irvine, MD
Medical School: Universidad Autónoma de Guadalajara School of Medicine After living in the same room of the same home in Carlisle, Pennsylvania for the first 18 years of my life, the second 18 years have moved me out of town, out of state, across the country, and across borders. All those years in motion, continually pursuing fun and adventure helped identify both my desire to be a caregiver and the priceless value of belonging to the community. I studied medicine in Guadalajara, Mexico, which was a tremendous adventure in and of itself. My brain loved switching gears from being holed up in my room studying medicine in English to walking down the street to the bodega to buy produce in Spanish, to working out in a gym surrounded by bodybuilders wearing amazing technicolor spandex. I fell hard for Mexico lindo y querido, y su gente tan amable. I graduated with hopes to train in a high volume county hospital where I could continue to care for Spanish speaking patients. I am thrilled that this hope became a reality when I joined the Natividad community, where I have the privilege of helping to meet the medical needs of the people of Monterey County.
In my life outside the hospital, I love spending time exploring the most beautiful part of California with my husband, our energetic daughter Rosemary, and our sweet baby Otis. We are taco enthusiasts, avid otter watchers, and love little more than a good laugh.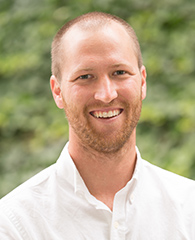 Jordan Katz, MD
Medical School: University of Buffalo School of Medicine Prior to shuttling across the country with my fiancée and dog, NY was home — I was raised on Long Island and graduated from Binghamton University with a degree in Psychology.  After graduating, I worked in research and development, sacking away money for a six month, eleven country "sabbatical" prior to starting medical school at the University at Buffalo. There, my interest in issues of social, health, and economic justice flourished through personal and professional relationships, leadership opportunities, and health advocacy.  During clinical rotations, I became enamored with the concept of hot-spotting – identifying patients in the highest tier of health care cost and developing holistic, individualized interventions to meaningfully affect outcomes. Between the third and fourth year, I received a grant to work with a progressive FQHC to develop a program aimed at targeting the needs of the most at-risk patients in an exceptionally vulnerable population. My experiences during that year reinforced my commitment to high-touch, relationship-driven, cross-setting care, i.e. family medicine!
Outside of work, some of my interests include woodwork, ethnic cooking, soccer, and anything outdoors where our dog can join… My fiancée and I absolutely love living here and feel so blessed to be part of the Natividad family.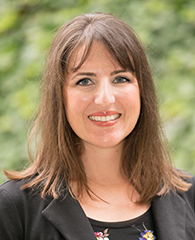 Natalie LaCorte, MD, MBA
Medical School: Ross University School of Medicine Born and raised in Hollister, California, the beautiful Central Coast is where I call home. As a native to the area and a farmer's daughter, I am thrilled to have the opportunity to serve the local agricultural community where I grew up. After graduating high school in 2000 without the intention of going to college, I worked as a waitress, a loan consultant assistant, loan processor, and rode horses professionally. During this time, my brother, Paul, got into a car accident that left him paralyzed from the waist down. My involvement in my brother's recovery introduced me to the field of medicine. At the age of 24, I decided to start college with a clear vision of becoming a doctor. Beginning at the community college level, I graduated first from Gavilan College before transferring to UC Merced and earning my Bachelor's degree in Biology. During college, I found purpose in volunteering my time to help my immediate underserved community. My altruistic desires continued into medical school where I volunteered within our student-run medical clinic for the native Caribbean peoples on the island of Dominica. This is where I fell in love with family medicine and decided to dedicate my life to what I like to call the front line of medicine. While completing my medical school journey, I also earned an MBA with an emphasis in Health Services from Keller Graduate School of Management. Natividad has an overwhelming commitment to the surrounding community, which is one of the many reasons I am so grateful and proud to be part of the Natividad Family Medicine Residency.
In my free time, I enjoy my family and friends, outdoor adventures, cooking, baking, canning, horseback riding, reading, and traveling.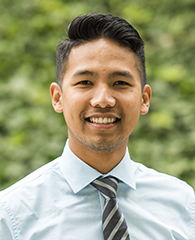 Steven Liu, MD
Medical School: St. George's University School of Medicine Growing up in San Francisco, I was exposed to a wide array of cultures which helped me develop into the person I am today. I completed my undergraduate studies with a BS in Molecular Biology down the street from Salinas at UC Santa Cruz (100% Slug), and then immediately ventured off to Grenada to pursue my medical degree at St. George's University.
I am proud and honored to be back on the Central Coast to train at Natividad. So far, I've enjoyed the diversity of our patient population where I get to practice my Spanish and the well-rounded training in family medicine residency. I'm most passionate about nutrition and physical activity preventing chronic illnesses, so I like to teach my patients about these two topics every chance I get. As a community medicine project, I'm currently alongside Monterey County Food Bank to have a healthy option on the menu of the lunch food trucks in the farms.
In my free time, I'm either at the gym, playing outdoor sports, or traveling abroad. I also like to spend a fair amount of my time trying different restaurants in San Francisco.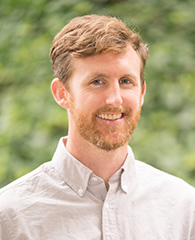 Ben Ramsden-Stein, DO
Medical School: Touro University California College of Osteopathic Medicine I grew up in San Jose, CA where my family still lives. After serving an AmeriCorps program in Boston, MA, I attended Pitzer College, where I studied Human Biology with a focus in cross-cultural health and healing. Following college, I worked for three years in grassroots organizing and advocating on behalf of causes including climate change, hunger and homelessness, and health care reform. I then spent a year and a half living with and taking care of my grandmother before starting osteopathic medical school at Touro University in Vallejo, CA. I am committed to Street Medicine, addressing health inequalities and improving health outcomes for all people, regardless of their documentation status, race, ethnicity, cultural background, sexual orientation, gender presentation, religion, class or background.
Outside of medicine, I enjoy outdoor adventures, music, dancing, and spending time with friends and family.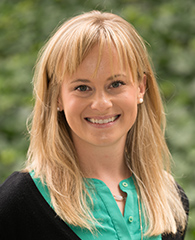 Tracey Taylor, DO
Medical School: Pacific Northwest University of Health Sciences I was born in Newport Beach, CA and raised in the magical Pacific Northwest, where I earned my BS in Biology and BA in Spanish at the University of Washington in Seattle. It was in college that I found and embraced my love for travel and speaking Spanish. I lived in Cádiz, Spain for six months as a part of the UW Spanish Department's study abroad program, where I attended the local university and also met my partner, who is pursuing a PhD in Applied Physics at UC Berkeley. Since then, we have backpacked through the Andes Mountains and the Amazon rainforest of Ecuador, and I completed a clinical immersion program in Oaxaca, Mexico. Though these adventures have been incredible in and of themselves, I am drawn to these places to further my knowledge of the Spanish language and the people that speak it. I have been thrilled to continue my medical Spanish education here in Salinas. Gracias por la oportunidad para servir a esta comunidad magnifica.
These experiences led me to a career in Family Medicine at Natividad, where I get to incorporate the technical detail of inpatient medicine with the long-term, meaningful relationships of the outpatient world. Though the mental dexterity of unraveling a complicated case exhilarates me, I recall that the patient is more than a body that harbors the complicated pathophysiology of my medical school textbooks. Each individual carries with them labyrinthine emotions, expectations that may not be clearly expressed, and questions that cannot be answered with a prescription or procedure. I am dedicated to finding a unique way to connect with each patient, knowing that navigating the delicate task of the patient interview requires as much skill, patience, and attention to detail as guiding the surgical scalpel.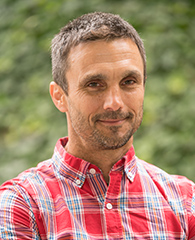 Shane Walker, MD
Medical School: University of California, San Francisco School of Medicine Growing up in Miami, the child of a single mother who worked multiple jobs to make ends meet (in part because she had to drop out of high school when I was born) provided me with a valuable perspective on issues facing underserved communities. Despite our struggles with money, my mother made a point of nurturing my appreciation for how fortunate we were. She wanted me to be aware that there were mothers out there — and not just in faraway places like India or Ethiopia, but in our own city — who didn't have the resources to feed their children or send them to school. It's a perspective that has drawn me to community service and engagement. Service as a Peace Corps volunteer in Cameroon and as a volunteer with the DoorStep School in Mumbai broadened that perspective, opening my eyes to the devastating effects of systemic poverty and the enduring power of hope and kindness. On the home front, my efforts with the International Rescue Committee working with resettled refugee families in San Diego allowed me to observe the challenges faced by immigrants in accessing public healthcare. In preparation for medical school, my involvement with the San Diego Hospice provided an important perspective on how practitioners approach end of life situations with patients and their advocates. Prior to medical school, I worked as a research scientist. While I found a career in science intellectually stimulating, I came to understand that I enjoy a deeper sense of meaning and purpose through volunteerism and service.
My transition to medicine has given me a unique opportunity to combine my interest in science with my passion for serving my community. Though I find the intellectual aspects of medicine enriching, it is the opportunity to work directly with patients that have provided the greatest sense of fulfillment. It is my privilege and my honor to serve and comfort patients and their loved ones on a daily basis.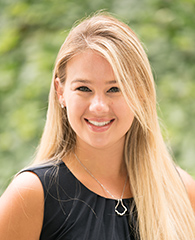 Nicole Woodel, MD
Medical School: American University of the Caribbean School of Medicine I grew up in a small town called Shingle Springs, California where the population is almost 4,500. Growing up I always wanted to be a doctor and could not wait. In anticipation, I worked as an EMT for nearly five years while going to college at California State University, Sacramento, where I earned my bachelors in Biological Sciences. Being from a small town I wanted to see more of the world and decided to head to the Caribbean for medical school, one of the best decisions I have ever made. I was able to travel all over the world for my education, and it is where I found my husband.
For fun, dancing is my thing. In particular line dancing, swing and salsa. My friends also tell me I have an old spirit because I love to crochet, sew and do an occasional puzzle. I am a bucket list kind of person and am willing to try anything once (most things). I also love outdoor activities including camping and biking. I felt so honored to be able to come back to California for my residency. I absolutely love the state I grew up in and I am proud to have the opportunity to give back to the community.