Who is a Natividad Nurse?
We share a deep commitment to our profession through advancement of the nursing profession throughout our organization. Our professional practice model is based on the belief that patients and families are partners in care. The model embraces the core principles of patient and family centeredness: dignity and respect; participation and collaboration; and information sharing in daily practice. Our principles are brought to life through behaviors that value personal accountability, positive relationships and engagement of high performing teams.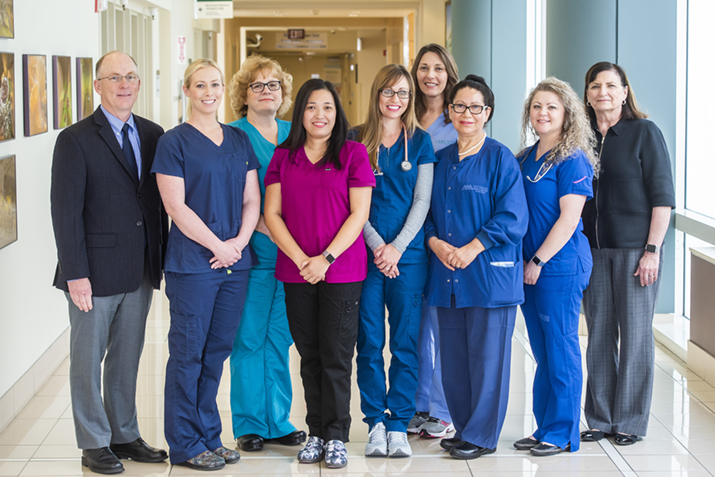 Natividad's Annual Florence Nightingale Award ceremony honors nurses who represent Characteristics of Nursing Excellence such as patient and family centeredness, high degree of collaboration, exceptional mentoring skills and being a professional role model.
The Professional Practice Council and the Education/Research Council promote the advancement of nursing practice through evaluation and review of system practices. In addition, both committees provide a forum for implementing evidence-based practice and new knowledge that aligns with Natividad's strategic priorities.
Recent projects and ongoing initiatives include the following:
Donor Breast Milk Program
This program, initiated by the nursing team in NICU, provides an opportunity for premature infants to receive breast milk in situations where their mother's milk has not come in, or the mother is unable to breastfeed.
Skin-to-Skin in the OR
This project is being implemented to offer skin-to-skin with moms and newborns immediately after Cesarean sections in the OR to promote bonding and to promote stabilization of the newborn.
Interdisciplinary Rounds
A project to improve collaboration and communication among team members and engage patients in the process through rapid interdisciplinary rounds at the bedside in Intermediate Care Unit and Medical Surgical Unit.
Emergency Department Flow
An Emergency Department performance improvement process to improve patient care and experience included a "quick look" nurse and improved process for RME (rapid medical exam).
Presurgical Screening Process
Initiation of a new "presurgical huddle" 48 hours in advance of surgery for the entire team to review the upcoming schedule and discuss preoperative requirement completion, patient education and equipment.
Emergency Department Care Cards
A project focused on improving real time communication with patients and families through use of "Care Cards" to better inform patients of the care processes and provide information specific to expected timeframes for completing tests, evaluation, and transitioning to the next level of care or discharge home.
MHU Post Discharge Project
Nursing staff-initiated Call Back pilot project to contact patients post discharge with a focus on improving patient experience and compliance with medication regimen.
CRRT Program in Critical Care
A project initiated by the critical care team involving the implementation of a Continuous Renal Replacement Therapy (CRRT) program in critical care to address high acuity patients with renal failure.