Dr. Marc Tunzi Named Natividad's 2018 Physician of the Year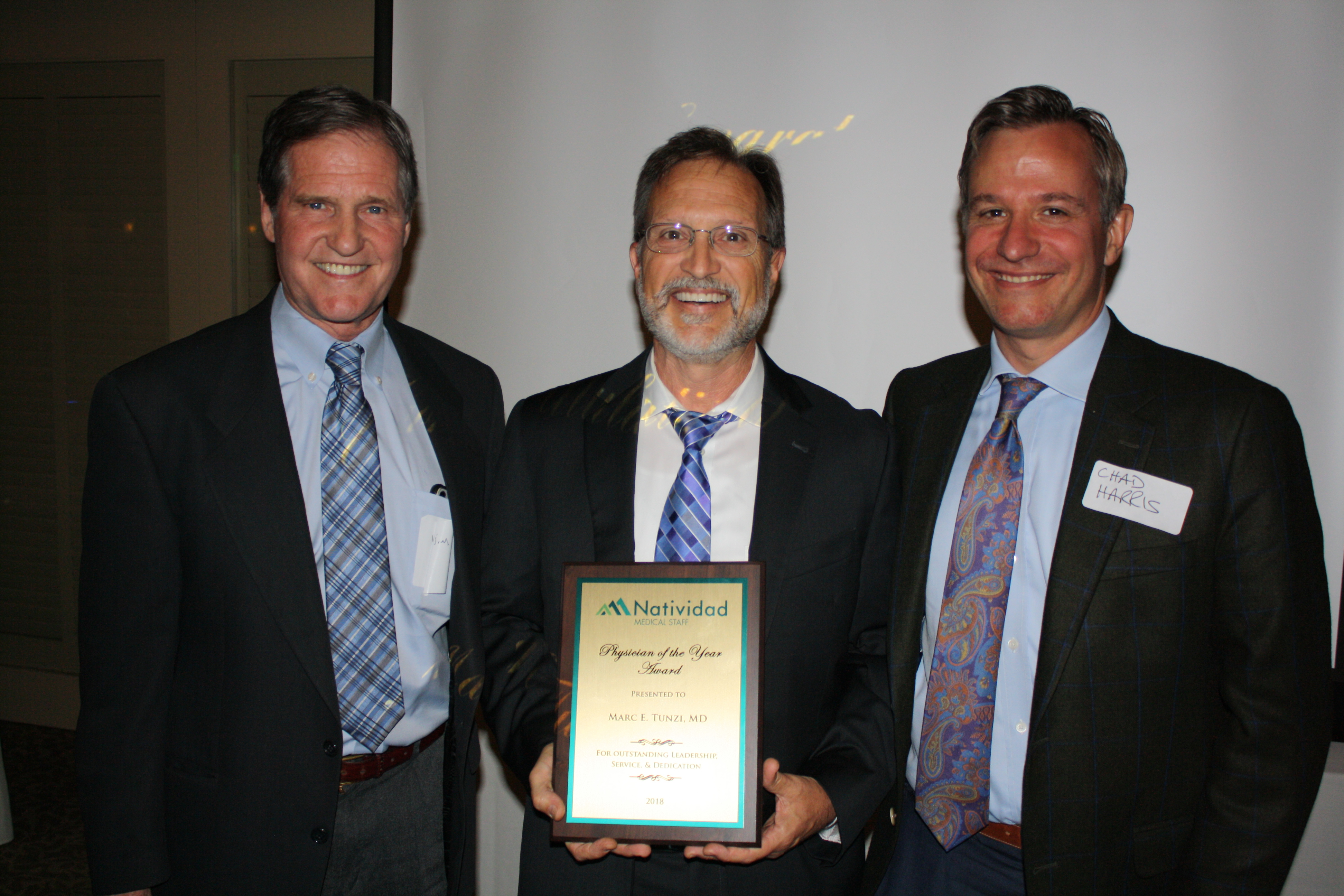 Salinas, Calif. (October 12, 2018)—Dr. Marc Tunzi is Natividad's 2018 Physician of the Year.Nominated and selected by medical staff peers and residents in training, the award honors an exceptional physician who inspires healthy lives.
As chair for the hospital's Bioethics Committee, Tunzi is a trusted consultant for all hospital services and part of the decision-making team when Natividad is presented with challenging medical cases.
"Dr. Tunzi is a compassionate person with a heart for the poor and vulnerable," said Natividad CEO Dr. Gary Gray. "He's committed to the highest ethics in life and in medicine."
Affiliated with University of California, San Francisco, Natividad is Monterey County's only teaching hospital. Tunzi plays a vital role in the development of future physicians through the Natividad Family Medicine Residency Program. He has served as faculty for more than half of the program's 45-year history — including two terms as director and is currently associate director of the program. Tunzi is also Natividad's past chief of staff. As one of more than 350 physicians at Natividad, he is recognized as a sought-after mentor and adviser for Natividad family medicine residents.
"Salinas is a working person's community, and people here work hard. I remain fully committed to public service medicine and taking care of our very special population of patients and families," Dr. Tunzi said. "And I love being just a small part of the education of the next generation of family doctors teaching."
A prolific writer and author, Tunzi has published more peer-reviewed journals and books than any other physician in Natividad's 133-year history. "One of the benefits of teaching is that it keeps you fresh and up-to-date, and it has provided me a reason to pursue academic interests," he said.
An accomplished academic and safety-net physician dedicated to educating other medical professionals, Tunzi received a medical degree from the University of California, San Diego School of Medicine and completed a family medicine residency with the University of California, San Francisco, Fresno-Central San Joaquin Valley Medical Education Program. He holds a Certificate in Health Care Ethics from the University of Washington.
For the last 20 years, Tunzi has worked with Salinas' homeless population and is a co-medical director for Dorothy's Place. He received the Jefferson Award – a national honor for public service – for his work.
"Dr. Tunzi has made a profound impact on everyone he has come into contact with in his 25 years with Natividad," said Gray. "He is one of our longest tenured physicians and certainly one of the most accomplished."