Libby Downey Appointed Natividad Board Chair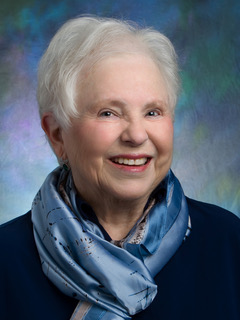 Natividad Board of Trustees has appointed Elizabeth "Libby" Downey as board chair. Downey is a retired nurse with a long history of public service in Monterey County. She joined Natividad's Board of Trustees in 2019 and is the former secretary, treasurer and vice chair of the board.
Downey has lived in Monterey County since 1963. Originally from North Carolina, she received her Bachelor of Science in nursing from the University of North Carolina, Chapel Hill.
"I have received health care at Natividad, and I've seen first-hand just how phenomenal, effective and efficient the hospital is when it comes to caring for our community," Downey said.
Downey's experience includes work in hospital nursing, nursing school instruction, public health, the Child Health and Disability Prevention Program, and serving as a conservator of the person appointed by the Superior Court of California. In addition, she served as the executive director of the Lyceum of Monterey County for 10 years.
"Libby brings a lifetime of experience as a public health nurse, business professional and community advocate to Natividad's Board of Trustees," said Natividad CEO Dr. Chad Harris. "Her expertise and leadership will be invaluable."
Downey is an avid volunteer and has served on boards across Monterey County, including Planned Parenthood Mar Monte, the Visiting Nurse Association & Hospice Inc., the Rotary Club of Monterey, Central Coast Hospice Foundation, the Monterey County Civil Grand Jury and Monterey Peninsula Community College District. She served as a commissioner for the Parks and Recreation Commission in Monterey for 20 years and was a City of Monterey council member from 2004 to 2016. Downey is currently taking classes at Monterey College of Law.
"Most of my hospital experience has been with medical centers. I do appreciate the teaching environment. As Monterey County's only teaching hospital, it feels like I'm coming home when I'm here at Natividad," she said. "There's a special connection I feel with the staff and their compassion for their patients."
She and her husband, Wayne, live in Monterey and have three adult children, Scott, Heath and Paige, and seven grandchildren.
As a medical center and Monterey County's only Level II Trauma Center, Natividad provides compassionate, high-quality health care to everyone, regardless of their ability to pay or immigration status. Owned and operated by the County of Monterey, Natividad is a public hospital and is guided and led by a board of trustees. Natividad offers a wide range of inpatient, outpatient, emergency, diagnostic and specialty medical care for adults and children.