Natividad Nationally Recognized with an 'A' for the Fall 2021 Leapfrog Hospital Safety Grade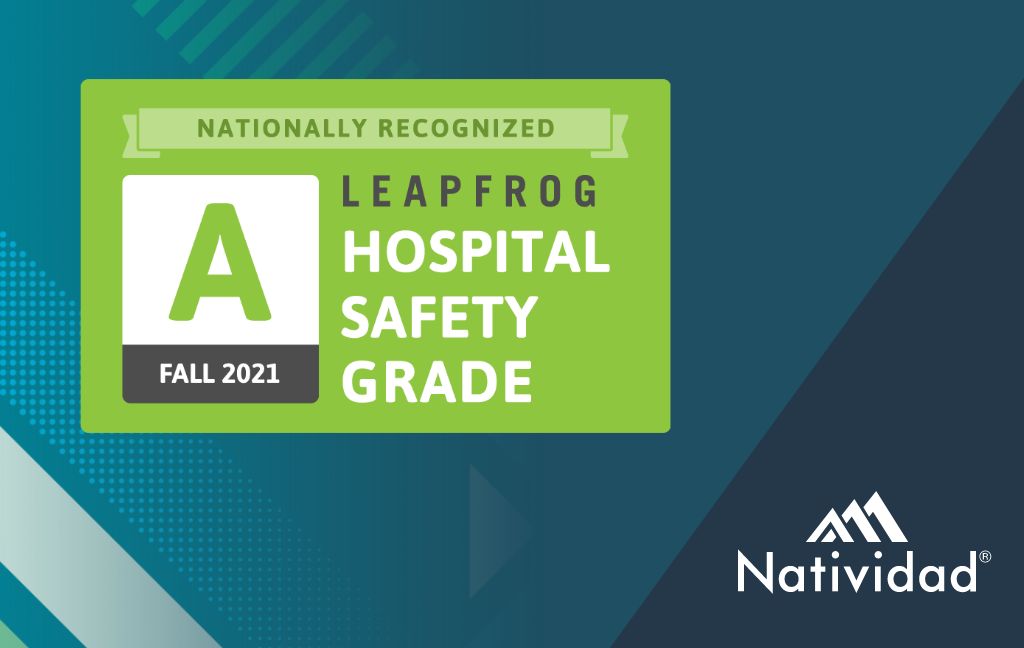 (SALINAS, Calif. November 16, 2021) —Natividad Medical Center received an "A" Leapfrog Hospital Safety Grade for fall 2021. This national distinction recognizes Natividad's achievements in protecting patients from harm and error in the hospital.
"Natividad's doctors, nurses and clinical teams are dedicated to providing the highest quality care to everyone we serve," said Interim CEO Dr. Chad Harris. "We are proud to see our hard work and diligence pay off with this top safety rating, all while facing the challenges of the pandemic."
The Leapfrog Group, an independent national watchdog organization, assigns an "A," "B," "C," "D," or "F" grade to general hospitals across the country based on over thirty national performance measures reflecting errors, injuries, accidents and infections, as well as systems hospitals have in place to prevent harm.
The Leapfrog Hospital Safety Grade is the only hospital ratings program based exclusively on hospital prevention of medical errors and harms to patients. The grading system is peer-reviewed, fully transparent and free to the public. Grades are updated twice annually, in the fall and spring.
"An 'A' Safety Grade is a tremendous achievement, of which this community should be extremely proud," said Leah Binder, president and CEO of The Leapfrog Group. "I thank the leadership and workforce of Natividad for its commitment to prioritizing patients and their safety, especially during these trying times."
To see Natividad's full grade details and to access patient tips for staying safe in the hospital, visit HospitalSafetyGrade.org and follow The Leapfrog Group on Twitter and Facebook.
# # #
About The Leapfrog Group
Founded in 2000 by large employers and other purchasers, The Leapfrog Group is a national nonprofit organization driving a movement for giant leaps forward in the quality and safety of American health care. The flagship Leapfrog Hospital Survey and new Leapfrog Ambulatory Surgery Center (ASC) Survey collect and transparently report hospital and ASC performance, empowering purchasers to find the highest-value care and giving consumers the lifesaving information they need to make informed decisions. The Leapfrog Hospital Safety Grade, Leapfrog's other main initiative, assigns letter grades to hospitals based on their record of patient safety, helping consumers protect themselves and their families from errors, injuries, accidents, and infections. More information at www.hospitalsafetygrade.org
About Natividad
Natividad is an acute care hospital and trauma center providing high-quality health care to everyone in Monterey County, regardless of ability to pay. Located in Salinas, Calif., Natividad is a public health care system offering a wide range of inpatient, outpatient, emergency, diagnostic and specialty medical care. Founded in 1886, the 172-bed medical center has more than 10,000 admissions and nearly 50,000 emergency visits annually. Home to the area's only Level II Trauma Center, the hospital's specialized personnel, equipment and services provide a vital local community service that saves lives and keeps patients close to home. Natividad's Baby-Friendly® facility delivers approximately 2,200 babies every year and is affiliated with UCSF Benioff Children's Hospitals. It also operates an accredited Level III Neonatal Intensive Care Unit, giving the tiniest and most fragile babies — some as small as one pound — the best chance for a healthy start. Through its UCSF-affiliated Natividad Family Medicine Residency, Natividad is the only teaching hospital on the Central Coast. For more information, please call (831) 755-4111 or visit www.natividad.com.
Media Contact:
Hillary Fish, Director of Marketing & Community Relations
fishh@natividad.com, (831) 783-2693, (831) 262-4375