Taking a Bite Out of Diabetes
October 27, 2018
Peak Health
Diet is key to winning the war against diabetes
"I think it's very important that education is given to the patient right after a diabetes diagnosis. Get educated right away." — Gilbert Cachola
"You don't need expensive gyms." — Dr. Dana Kent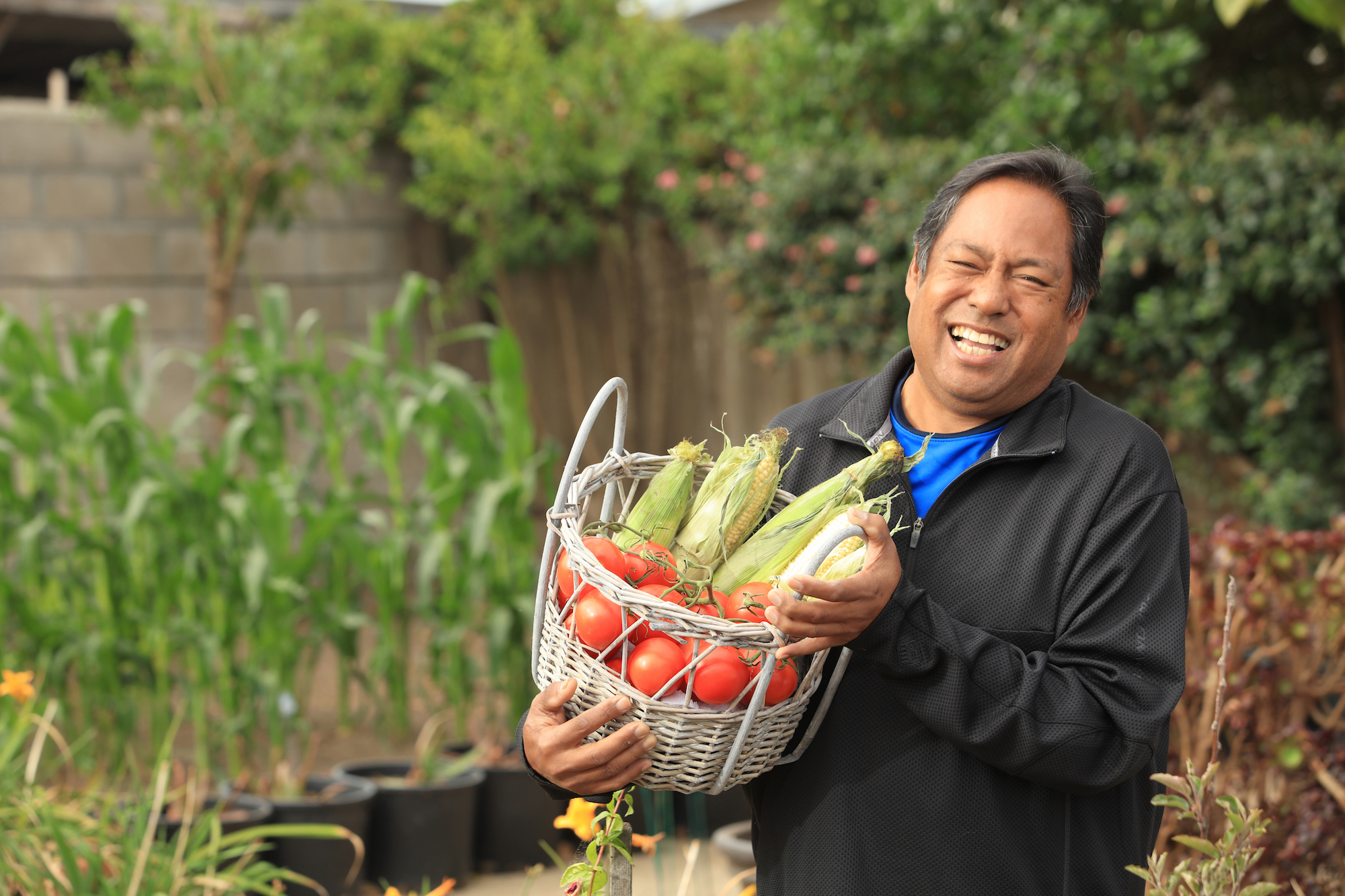 After living with Type II diabetes for almost two decades, Gilbert Cachola feels like he finally has learned to manage the disease.
The turning point came when he took his doctor's advice and enrolled in classes at Natividad's Diabetes Education Center where Certified Diabetes Educator Lupe Bravo, RN, taught him about how food affects his body. The education, combined with a lot of determination, changed Cachola's life. "That's what I'm really grateful for: what Natividad has done for me," he said.
In 2000, a simple blood test at his annual checkup found Cachola's A1C — a blood test that shows the three-month average levels of blood sugar — was high. He was 40 at the time and said the Type 2 diagnosis concerned him.
His doctor gave him a pamphlet about diabetes and a prescription. He saw his doctor every six months, checked his blood sugar daily, and took his medication, but he said he continued eating whatever he wanted. "They just said I had diabetes, and they didn't offer any education," Cachola said. "I really didn't take it seriously in the beginning and just shrugged it off."
Since enrolling in the class Cachola, 58, said he feels like a different person. He exercises regularly and watches everything he eats. "I used to be sluggish, not wanting to do anything at all. I'd just stay at the house inside my room," he said. "Now I like cycling, mountain biking and gardening."
Education Works
Diabetes education is a valuable tool said Dr. Dana Kent, Medical Director of Health Promotion and Education at Natividad Foundation. The Diabetes Education Center offers education for people of all ages with diabetes and pre-diabetes and is one of Natividad's most successful programs.
The classes are especially important in Monterey County, which has unfavorable diabetes rates and high pre-diabetes rates in people ages 18-39. Many in Monterey County, especially low-income residents and migrant workers, aren't aware of what people can do to reduce their risk of diabetes, Dr. Kent said.
The Diabetes Education Center services teach people to focus on healthful diets, reducing sugar-sweetened food and becoming more active."You don't need expensive gyms," Dr. Kent said.
Diabetes educators focus on motivating people to make healthier choices. The center encourages that people get 30 minutes a day of any type of exercise and fill their diets with foods such as non-starchy vegetables, fruits, whole grains, and fat-free milk and yogurt.
Cachola said that he found classes about what foods he could eat — and in what portions —extremely helpful.He learned how certain ingredients in foods, such as phosphates and sodium, affect his A1C numbers, and said he's made major changes to what he eats and drinks because he understands how foods and liquids affect his body. Cachola said he now reads labels before he buys foods."I'll say, 'I can't eat this, but I can eat these other things,'" he said.
In addition to making smart choices at the grocery store, his garden at his Castroville home —once overgrown with weeds — now overflows with corn, tomatoes and strawberries. Cachola said he has cut back significantly on foods he once enjoyed, such as rice and pasta, limiting them to about one meal a month. He's also eating lots of salad and has replaced soda with diet soda and water.
"I do the same cooking, but I watch what ingredients I use," he said. "For example, too much sodium will make me thirsty and tempt me to drink more liquids than my body can process. That can trigger breathing difficulties."
After the four-week class, Bravo and other educators looked at Cachola's A1C test results every three months for the first year and showed him how to read the results. He said they talked about diet and how diabetes could affect his health in the long-term. Going forward, he'll check in with the Diabetes Education Center annually for review and to learn about any updates to diabetes management and care.
Cachola has met one-on-one with Bravo to follow up on his progress and recently had his 12-month check-in. So far, he's lost about 20 pounds and said he is much more active.
"I saw the motivation that Gilbert had to learn and make changes," Bravo said. "I wish all my patients were like him."
"I think it's very important that education is given to the patient right after a diabetes diagnosis," Cachola said. "Get educated right away."
November is National Diabetes Awareness Month. To learn more, contact the Diabetes Education Center at (831) 755-6292.
Good Eats
Low-Carb Morning Glory Muffins
Here's a healthy recipe from dlife.com recommended by Corinna Zaglmayr, Clinical Nutrition Supervisor with Natividad.
SERVINGS: 48
COOK TIME: 18 MINUTES
PREP TIME: 20 MINUTES
UNIT: 1 MUFFIN
CARBS: 5.5 G
SAT. FAT: 4 G
FIBERS: 1 G
SODIUM: 76 MG
PROTEIN: 1 G
CALORIES: 82
INGREDIENTS
Cooking spray
1 cup almond flour
1/4 cup coconut flour
1/4 cup flax meal
3/4 cup whole wheat pastry flour
3/4 cup unsweetened coconut flakes
2 tsp baking soda
1 tsp ground cinnamon
1/2 tsp ground ginger
3 large eggs
1/2 cup coconut cooking oil
1/4 cup melted butter
1 medium grated apple
1 cup grated raw carrot
2 bananas
2 tbsp molasses
2 tsp vanilla
INSTRUCTIONS
Preheat oven to 350 degrees.Spray two mini muffin pans (each making 24 mini muffins) with cooking spray.Sift the flours, flax meal, baking soda, coconut flakes, cinnamon and ginger together in a large bowl.
In a separate large bowl, whisk eggs, add coconut oil, cooled melted butter, grated apple and carrot, mashed bananas, molasses and vanilla. Mix well.Add the dry ingredients to the wet and mix just until combined.Spoon the batter into muffin tins, filling each to the brim.
Cook for 18 minutes, or until an inserted toothpick comes out clean.