Community Class Details
Matter of Balance is a free, 9-week virtual workshop to learn how to manage your concerns about falling. Many older adults experience concerns about falling and restrict their activities. Matter of Balance is an award-winning program designed to manage falls and increase activity levels. The program emphasizes practical strategies to manage falls.



Who Should Attend?
Anyone concerned about falls
Has fallen or is at risk for falls
Anyone interested in improving balance, flexibility and strength
Does not have dementia
Can walk independently (may use cane)
You Will Learn to:
View falls as controllable
Set goals for increasing activity
Make changes at home to reduce fall risks
Exercise to increase muscle strength and balance
Workshops are free.
Registration required. Refreshments are provided. Participants must attend all 9 workshops. Please call Lorraine Artinger, RN, Trauma Prevention and Outreach Nurse at (831) 772-7357.
These classes will all take place via Zoom.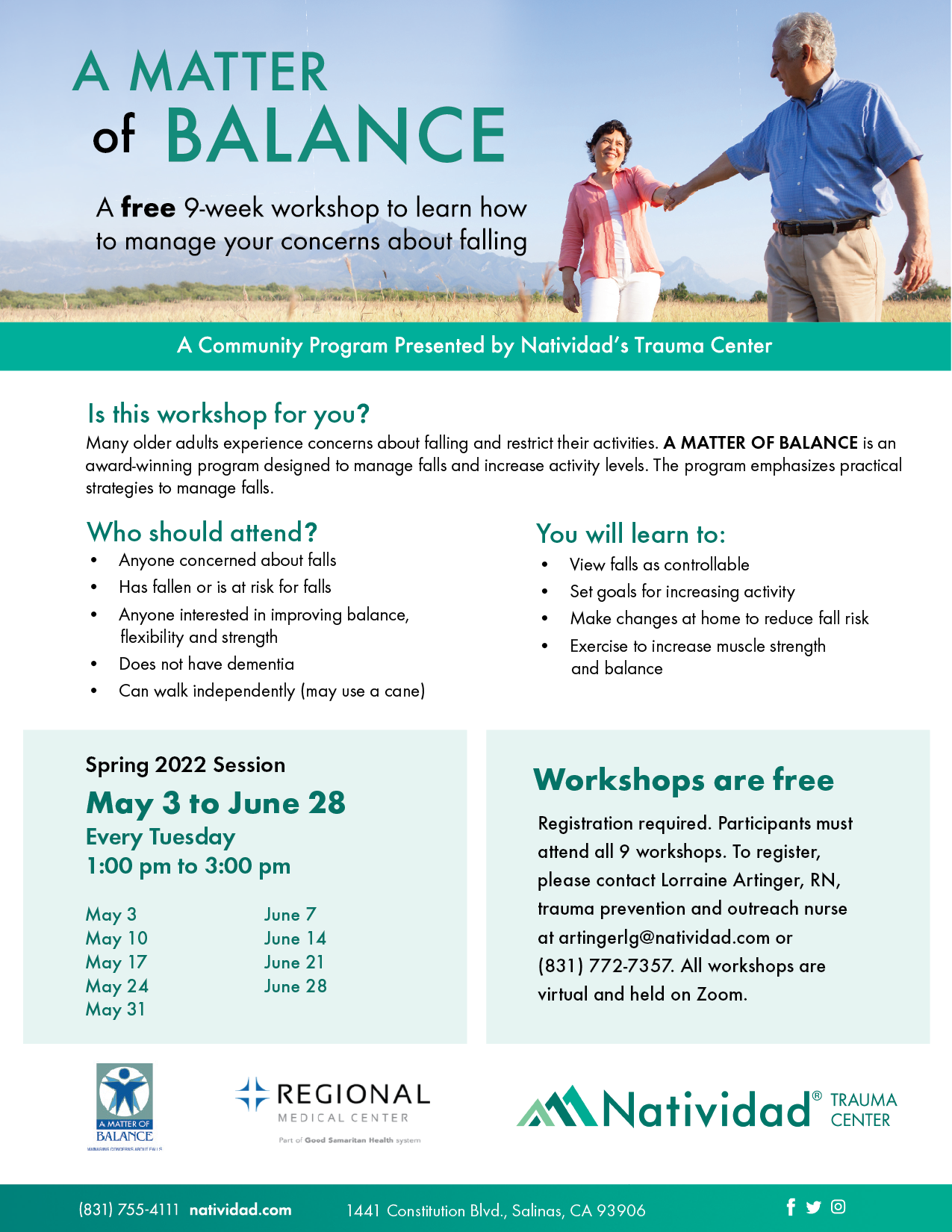 Share the Pain is a free ongoing education and support session led by a doctor/ behavioral health team. The program's goal is to help those with chronic pain to take control of their chronic pain in a non-judgmental environment. Participants learn about self-management techniques to reduce chronic pain and meeting others who also live with pain that persists.
When
All hospital classes are currently canceled.

Who Should Attend?
Anyone who has pain that is hard to deal with.
Anyone who wants more time talking with a health professional about their pain.
Anyone who wants to connect with others who understand what chronic pain feels like.
Anyone who is ready to manage their pain instead of it managing them.
Topics
Setting goals
Pain and anger
Increasing social support
Reducing stress
Tai chi
Better sleep
Finding your inner strength
How to close the "pain gates"
Pacing yourself to be at your best
Pain management and medications
Using your thoughts to cope with pain
Communicating with your healthcare team about pain
Self-hypnosis and other relaxation techniques
Introduction to osteopathic manipulation
Registration is required. The program is free.
Please contact Dr. Macias or Dr. Zaro at (831) 783-2592.
These classes will take place in the Natividad Conference Room.