Natividad "Best Hospital in the Salinas Valley"
Hospital Receives First Place Recognition from the Salinas Valley Readers' Choice Awards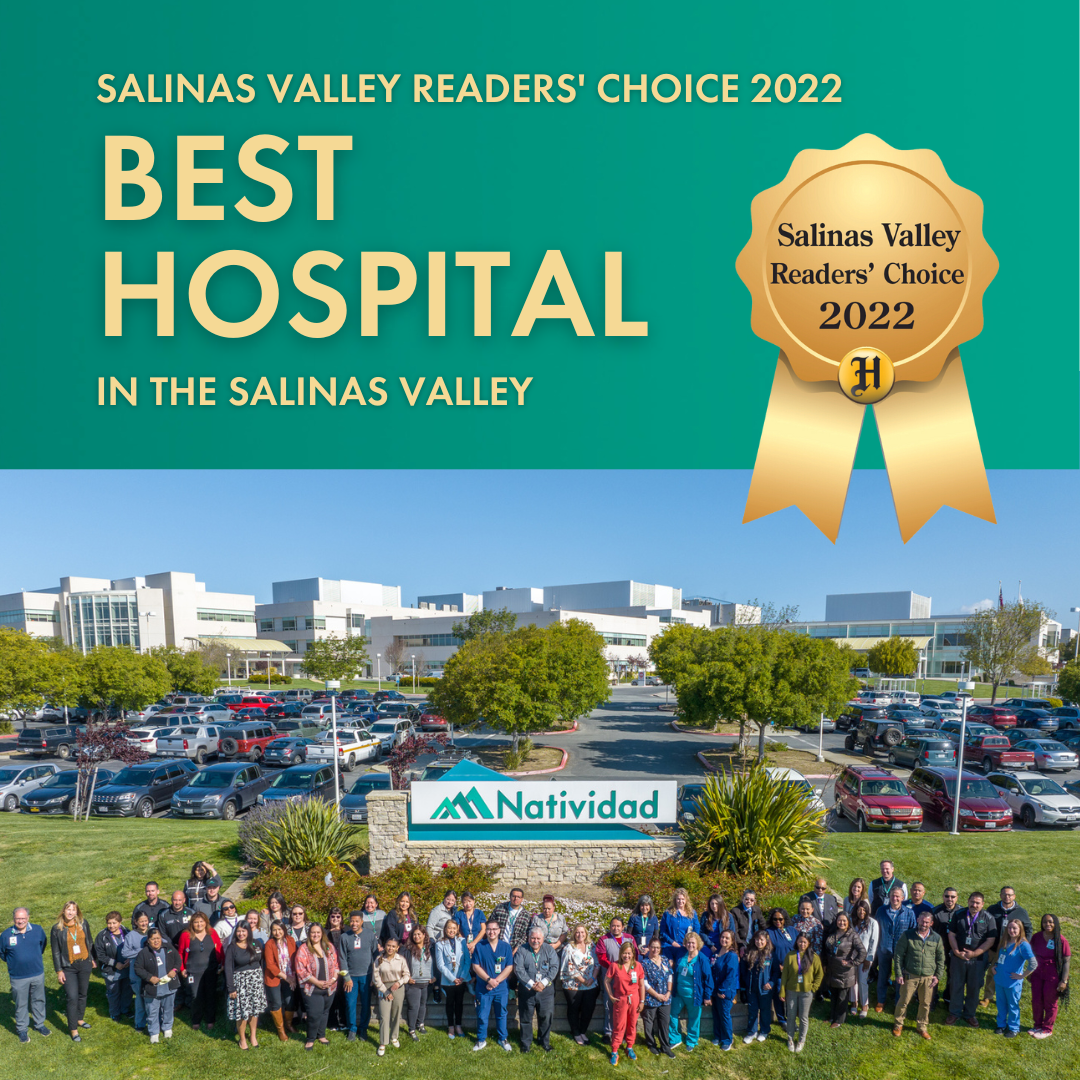 Natividad, a hospital and Level II Trauma Center dedicated to improving and inspiring healthy lives, has received first place as Best Hospital in the Salinas Valley by the Salinas Valley Readers' Choice Awards 2022.
Each year, the Monterey Herald invites local residents to cast their votes for their favorite businesses and individuals in the Salinas Valley in their annual awards. A special publication announcing the awards will publish in the Monterey Herald on Sunday, May 28. The publication is also delivered directly to select Salinas homes to bring more attention to the winners and for greater awareness.
"Natividad is excited to receive first place for Best Hospital in the Salinas Valley by the Salinas Valley Readers' Choice Awards 2022," said Natividad CEO Dr. Chad Harris. "I am proud of our team and the care they provide our patients and community,"
Natividad's expert doctors, nurses and staff provide compassionate, high-quality health care to everyone in Monterey County, regardless of their ability to pay or immigration status. Founded in 1886, Natividad offers a wide range of inpatient, outpatient, emergency, diagnostic and specialty medical care for adults and children.
In 2015, Natividad received designation as the only Level II Trauma Center between Santa Barbara and San Jose. The hospital provides a vital local community service to an area larger than the state of Delaware. Specialized personnel, equipment and services treat the most severe and critical injuries — saving lives and keeping patients close to home. Studies show a local trauma center can improve survival rates by 20 to 25 percent.
Last summer, Monterey resident Steve Bruemmer became a great white shark attack survivor after Good Samaritans came to his rescue off Lover's Point in Pacific Grove. An ambulance transported Bruemmer to Natividad's Trauma Center within an hour of the attack. Despite critical injuries requiring extensive surgery and massive blood transfusions, he is recovering and can walk again.
"We will forever be grateful to everyone who participated in Steve's rescue and care," said Steve's wife, Dr. Brita Breummer. "We appreciate the Trauma Service and everyone else who works at Natividad. The compassionate and professional care has been outstanding."
Trauma and other patients recovering from severe illness or injury often continue care at the Natividad Sam Karas Acute Rehabilitation Center. Offering the highest quality and most comprehensive level of rehabilitation health care for patients, the center aims to promote independence and lessen the dependence on families and social care. The center is ranked #2 by Kindred and in the country's top 10% of acute rehabilitation facilities by UDS.
Safety net hospitals like Natividad make up only 21 of California's more than 450 hospitals and health care systems. Yet, they provide 35% of all hospital care to Medi-Cal beneficiaries and 40% to California's uninsured. They also train more than half of all new doctors in the state. In addition, through its affiliation with UCSF, Natividad is the only teaching hospital on the Central Coast. Recognized nationally and internationally as a model program, Natividad's Family Medicine Residency Program is postgraduate training for physicians specializing in family medicine. Notably, about half of its graduates remain on the Central Coast to practice medicine.
Natividad sees nearly 53,000 Emergency Department visits yearly and has more than 10,000 admissions. In addition, the hospital's comprehensive women's health program delivers about 2,500 newborns each year. In 2022, Natividad made national and international news when it welcomed the Greenfield Trujillo twins born at 11:45 pm on December 31 and midnight on January 1. "It's crazy to me that they are twins and have different birthdays," said their mother, Fatima Madrigal.
The hospital is well-known for its model birthing program tailored to the individual needs of all women. Natividad was the first hospital in the area to offer vaginal birth after cesarean section (VBAC) more than 14 years ago. The maternity program has been recognized by Newsweek as a Best Maternity Hospital 2020 and as a Blue Distinction® Center for Maternity Care by Blue Cross Blue Shield. Natividad is also a Baby-Friendly® Hospital and offers the only Lactation Clinic in the county. In addition, the hospital's Neonatal Intensive Care Unit (NICU), affiliated with UCSF Benioff Children's Hospital, has a Level III designation from the California Department of Health, meets the strictest criteria, and is staffed and equipped to care for critically ill infants.
Natividad is owned and operated by the County of Monterey and employs more than 1,600 people and over 400 medical staff. At its Salinas campus, Natividad offers outpatient surgery, clinics and services, including Cardiology Services, Natividad D'Arrigo Family Specialty Services, Outpatient Therapy Services, Women's Imaging Services, Bariatric Weight Loss Surgery, and family medical care through Natividad Medical Group.
Natividad is strengthened and enhanced by Natividad Foundation, a nonprofit charitable organization. The foundation's public-private partnerships help fund medical equipment, programs and training to ensure all patients get the best care.  To learn more, visit www.natividad.com.
Awards
Received a coveted 4-star rating for Quality from Centers for Medicare & Medicaid Services (CMS). The Overall Star Rating provides consumers with a simple overall rating generated by combining multiple dimensions of quality into a single summary score.
Recognized by the American College of Surgeons (ACS) National Surgical Quality Improvement Program (NSQIP) for meritorious surgical care outcomes in 2022 for 2021. Natividad is one of only 78 health care organizations nationally to receive this honor and the only one in Monterey County.
2017-current Blue Distinction® Center for Bariatric Surgery designation by Blue Cross Blue Shield. The Blue Distinction Specialty Care program recognizes nationally designated health care facilities that show expertise in delivering improved patient safety and better health outcomes.
2018-current Level II Trauma Center Verified by the American College of Surgeons (ACS). The verification recognizes the hospital for meeting the highest standard of care possible for treating injured patients.
2017-2022 BETA Healthcare Group Award of Excellence in the Emergency Department. The goal of Excellence in the ED is to improve the care for the critical pediatric patient.
2018-2022 National Ranking in the Top 10% of Inpatient Rehabilitation Facilities by Uniform Data System (UDS). The ranking certifies that Natividad provides care that is effective, efficient, timely and patient-centered. Natividad Ranked second in the nation out of approximately 860 rehab units for Overall Quality and Outcomes for Acute Rehabilitation Units by UDS.
2016-2021 Kindred Uniform Data System for Medical Rehabilitation Top-Performer Award and ranked #2 for Quality and Outcomes for Acute Rehabilitation Units by Kindred out of 110 Kindred hospital-based acute rehab units in the United States.
2009-2022 BETA Healthcare Group Award of Excellence for High Quality Obstetrical Practices achieving 100% Compliance.  The goal of the OB initiative is to promote best practice in care delivery to moms and babies in BETA's "Quest for Zero" preventable birth injuries.
2020 Named one of Newsweek's Best Maternity Hospitals 2020. The distinction recognizes facilities that have excelled in providing care to mothers, newborns and their families, as verified by the 2019 Leapfrog Hospital Survey.
2015-current Blue Distinction® Center for Maternity Care designation by Blue Cross Blue Shield signifying that Natividad delivers high quality maternity care safely and effectively, based on objective quality measures that represent evidence-based practices of high-quality maternity care.
2016-2022 Smart Care California's C-section Honor Roll for Maternity Care. Efforts include improving C-section rates, applying critical safety measures, ensuring that mothers get timely and high-quality prenatal and postpartum care.
2013-2023 International recognition as a Baby-Friendly® birth facility for offering breastfeeding mothers the information, confidence, and skills needed to successfully initiate and continue breastfeeding their babies.
California Association of Public Hospitals and California Health Care Safety Net Institute Quality Leaders Award 2020 Special Recognition for COVID-19 Response.
2020 Recognized by the American College of Surgeons (ACS) National Surgical Quality Improvement Program (NSQIP) for meritorious surgical care outcomes for 2019. Natividad is one of only 89 health care organizations nationally to receive this honor and the only one within Monterey County.
Accreditations
Natividad is fully accredited by The Joint Commission.
Natividad Family Medicine Residency Program is accredited by the Accreditation Council of Graduate Medical Education (ACGME).
Diabetes Education Center accredited by the Association of Diabetes Care & Education Specialists.
International Accreditation by the Commission on Accreditation of Rehabilitation Facilities International (CARF) for Hospital (Adults) and Hospital: Stroke Specialty Programs (Adults) Programs.
Accreditation for Simulation Program by the Society for Simulation in Healthcare. Natividad is only the second hospital in California to achieve this status.
The Child Advocacy Center at Natividad is accredited by the National Children's Alliance, ensuring that all children receive consistent, evidence-based services to help them heal.
Accreditation as a Comprehensive Center by the Metabolic and Bariatric Surgery Accreditation and Quality Improvement Program (MBSAQIP®), a joint Quality Program of the American College of Surgeons (ACS) and the American Society for Metabolic and Bariatric Surgery (ASMBS)