Natividad's Trauma Prevention Programs Aim to Reduce Incidents
Natividad's Trauma Prevention Programs Aim to Reduce Incidents
May is Trauma Awareness Month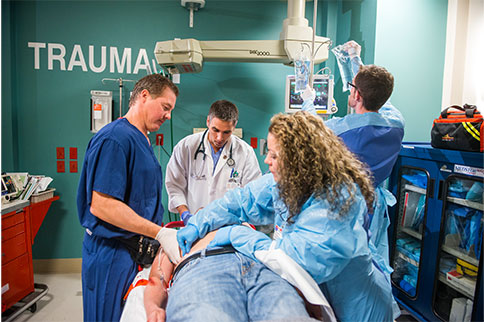 At Natividad, more than 1,500 critically or severely injured patients receive lifesaving care each year in its designated and verified Level II Trauma Center. Natividad is uniquely trained to provide immediate and expert care for a wide variety of complex and critical injuries. Studies show a local trauma center can improve survival rates by 20 to 25 percent.
Last year, car accidents made up the majority of traumatic injuries in Monterey County, accounting for nearly half of the hospital's trauma patients. Falls, assaults, motorcycle and bicycle accidents and pedestrian injuries cover the remaining trauma cases at the hospital.
Natividad's highly skilled trauma team of physicians, surgical specialists, nurses, technicians and support staff is available 24 hours a day, 7 days a week. While the majority of patients arrive by ambulance, the hospital's on-site heliport allows patients to be taken to the Trauma Center by helicopter from anywhere on the Central Coast in just minutes.
"In life-threatening situations, minutes matter," said Natividad CEO Dr. Gary Gray. "Our trauma care services are here to provide the best care for every resident and visitor of Monterey County and beyond."
Natividad's trauma program offers nationwide education to its physicians, residents, advanced practice nurses and critical care nurses. These courses include Advanced Trauma Life Support training, Trauma Nursing Core Certification Courses, and Trauma Care After Resuscitation. Natividad also works extensively to offer education and injury prevention resources to community members. Natividad's community outreach and injury prevention programs include:
Stop the Bleed
Stop the Bleed is a national public education campaign that teaches how to recognize and stop bleeding until medical help arrives.
CHOICE
The CHOICE program's team provides services for victims of gunshot wounds, stabbings and beatings for those aged 13-30. When a survivor of violence arrives at Natividad's Trauma Center, a CHOICE Intervention Specialist meets them at their bedside. They provide advocacy and the support needed for the patient and their family to heal from the trauma.
A Matter of Balance
Falls can be serious at any age but have an especially negative impact on the well-being and independence of older adults. A Matter of Balance is an evidence-based fall management workshop for older adults.
Distracted Driving
As Monterey County's Level II Trauma Center, Natividad witnesses firsthand the tragedies caused by motor vehicle crashes; the number one killer of American teens. Impact Teen Drivers is an evidence-based program that brings awareness and education to teenagers, their parents and community members about all facets of responsible driving.
Bicycle Helmet Safety
Natividad is committed to community education and awareness in order to reduce trauma-related injuries due to unsafe helmet use. An accident on a bicycle or a fall without a helmet or while using a helmet improperly can result in a traumatic injury.
Pedestrian Safety
Walking is a great way to get exercise and is an effective mode of transportation. Natividad is committed to community education to ensure the safety of pedestrians.
Read more at: https://www.natividad.com/community/trauma-prevention-programs/