Prioritize Your Health for Breast Cancer Awareness Month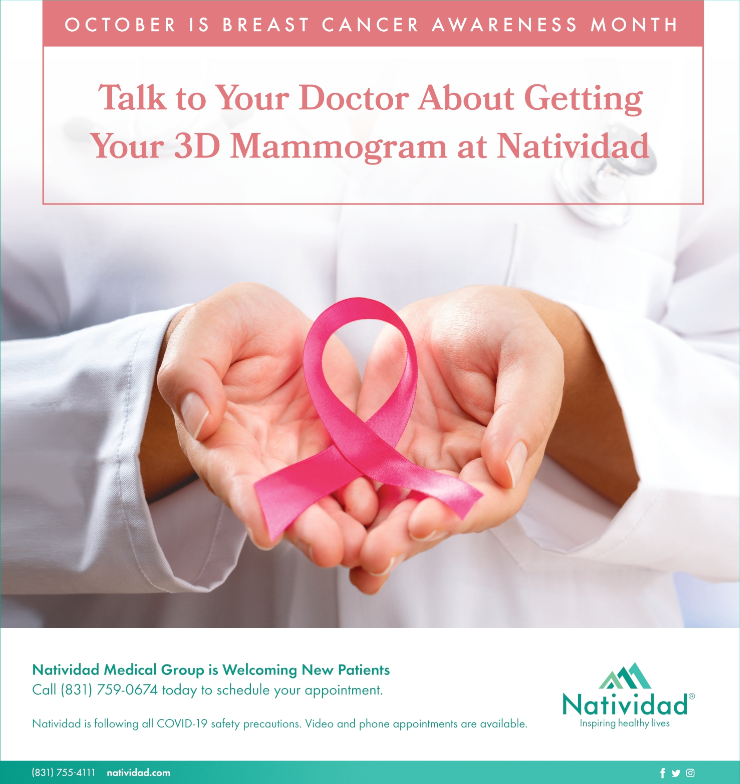 If you've put your health care on hold, you are not alone. Many medical facilities temporarily paused their elective and screening services, including those for breast cancer, as they responded to the COVID-19 pandemic.
October is Breast Cancer Awareness Month, a time when many women schedule their screening for the year. In an article reported by the medical journal JAMA, the country has seen a 51.8% decrease in breast cancer diagnoses since the beginning of the pandemic.
"The pandemic has taken a toll on preventative screening," said Dr. Melissa Nothnagle, Chief of Family Medicine at Natividad. "Like most cancers, breast cancer is most easily treated when we detect it early. If you're over 40, talk to your family doctor about the mammogram screening schedule they recommend for you."
Natividad Care Center and other mammography centers in the area have restarted breast cancer screening and are taking steps to protect you against COVID-19. Natividad is equipped with the latest 3D technology to make screenings as accurate and private as possible. The latest 3D tech is also quick, making each appointment more manageable than a traditional mammogram.
Natividad's Hologic Selenia Dimensions 3D System provides incredible detail, giving doctors the most accurate images available. The machine records information in sections. "Think of the images we get like individual slices of bread as opposed to the entire loaf," said Radiologic Technologist Helene Heath-Gibson. "With the 3D system, we're able to detect cancers that may be hard to see in traditional 2D imaging. This earlier detection can mean earlier treatment and better outcomes."
This innovative system is estimated to increase early cancer detection by 30%, giving each patient a head start on treatment. Additionally, there are fewer follow-up appointments, callbacks, and ultimately lower medical expenses due to the machine's accuracy.
At Natividad, the Care Center, which opened in 2018, provides private examination rooms, the latest technology, and supportive staff members. It is always the staff's goal to keep all patients as comfortable as possible, quickly getting them in and out of appointments. "Patients appreciate how quick the 3D system is, and I love the greater clarity and more accurate results we get," Heath said.
The American Cancer Society estimates that in California alone, over 30,000 women have breast cancer each year. Breast cancer is an extremely treatable cancer, and routine check-ups are vital to early detection and timely treatment.
According to research conducted by the American Cancer Society, women who have localized breast cancer have a five-year survival rate of 99%, which underscores the importance of early detection.
"Getting a mammogram doesn't have to be a scary thing," Dr. Nothnagle said. "It's safe and fast, and we have very effective treatments for breast cancer available. People do very well with treatment."
To make an appointment at Natividad Care Center, call (831) 755-4369.