Stop by Natividad Foundation's Booth at Ciclovia Sunday for a Free Bike Helmet
Author: Staff Report
Publication: The Salinas Californian
More than 150 lucky Ciclovía Salinas 2019 attendees this weekend will go home with brand-new bike helmets, and maybe even a bicycle.
On Sunday, the Natividad Foundation, a sponsor of Ciclovía, will give out 170 bike helmets as well as raffle off two bikes donated by the foundation.
Educators at the Natividad booth will give out helmets, give advice about helmet safety fittings and demonstrate head injury prevention.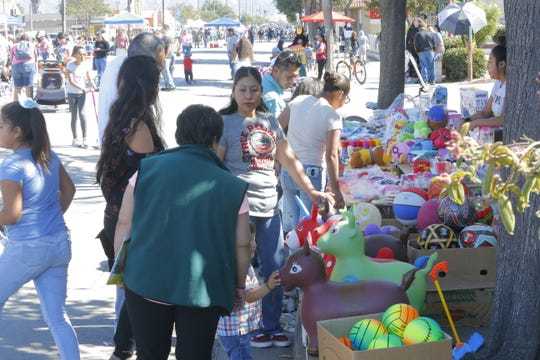 People shop for toys at 2018's Ciclovia Salinas on E. Alisal Street Sunday. (Photo: Joe Szydlowski)
California law requires anyone under the age of 18 to wear a helmet when riding a bicycle, whether pedaling or as a passenger, though a Natividad press release noted healthcare professionals recommend all cyclists wear helmets, regardless of age.
The family-oriented annual event provides an environment where residents can enjoy recreational activities such as biking, running, skating and dancing together.
Community members can also learn more about the importance of healthy habits in counteracting major health issues like diabetes and obesity.
Ciclovía, which translates to "bike path" in Spanish, will take place this Sunday from 10 a.m. to 2 p.m. on Alisal Street, spanning the blocks between Main and Sanborn streets in Salinas.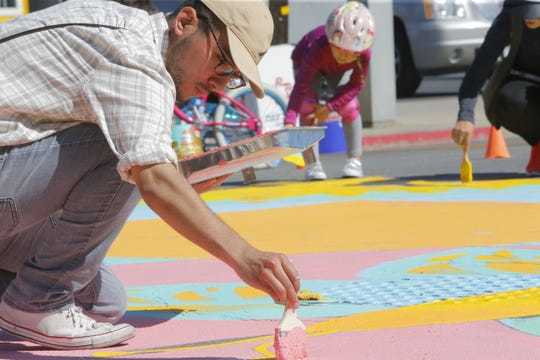 Edwin Carillo paints 2018's Ciclovia Salinas Mandala on E. Alisal Street Sunday. (Photo: Joe Szydlowski)