Throughout the COVID-19 pandemic, dozens of CSU Monterey Bay nursing and physician assistant students served as frontline healthcare workers in hospitals, nursing facilities, clinics and more. All while still pursuing their studies through CSUMB.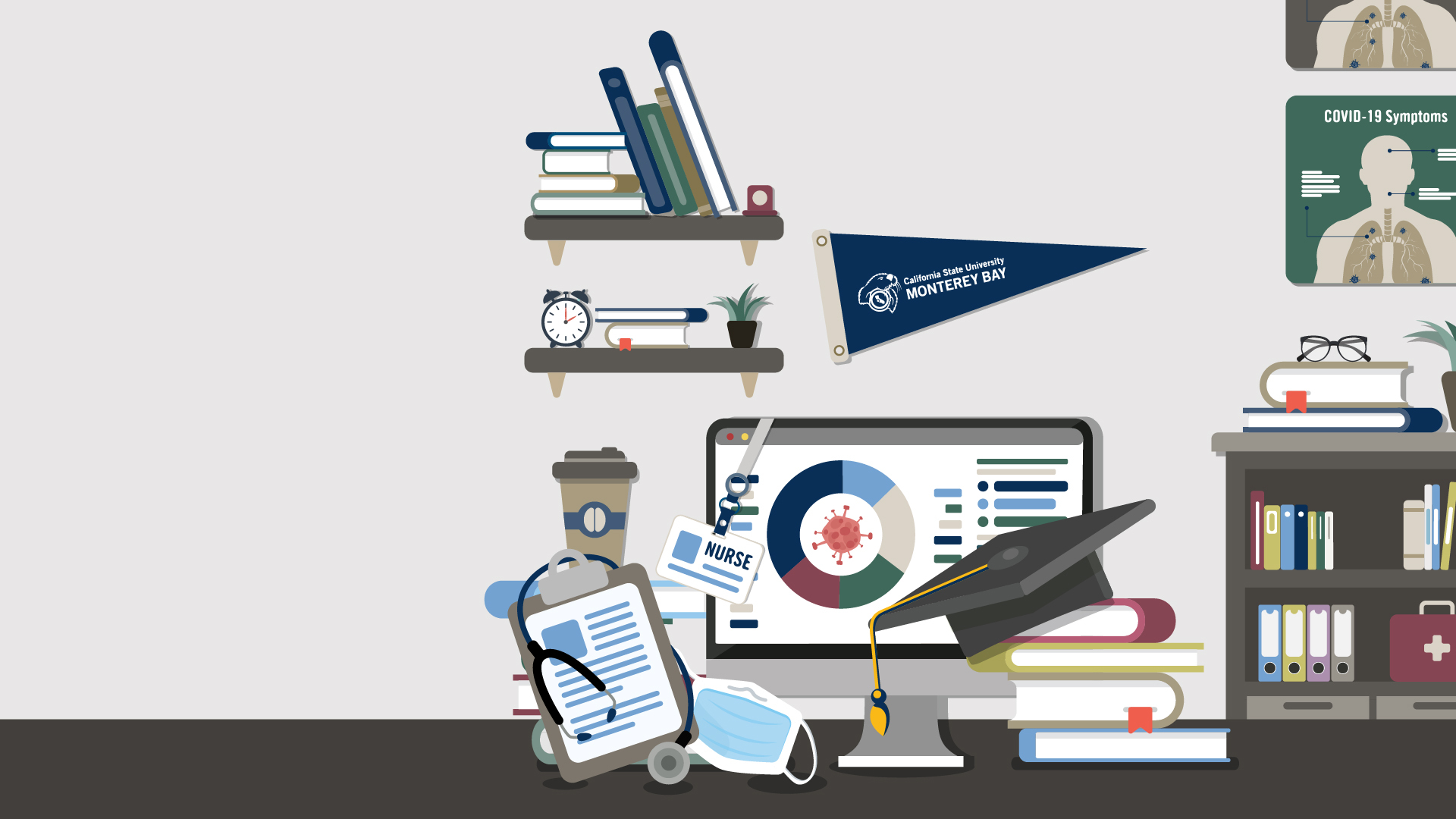 As of February 2021, Natividad Medical Center, the 172-bed acute care hospital owned and operated by Monterey County, had cared for 426 people with the disease. A total of 22,225 people had tested positive for the virus in the county, 951 had been hospitalized, and 170 had died, officials said.
A month later, with vaccination rates hitting all-time highs and the number of COVID-19 cases dropping to new lows, everyone collectively exhaled.
Healthcare workers and CSUMB students Jacquie Siino, Theresa Crisp and Steven Kurtz shared their stories of struggle, courage, joy and pain, and how CSUMB helped them keep their educations on track as they continued their lifesaving work.
Siino is a staff nurse in the intensive care unit at Natividad hospital. She cares for the critically sick, and patients with traumatic injuries. Starting in Spring 2020, she also treated severe COVID-19 cases that required a ventilator in the hospital's COVID unit. With 10 years of experience as a registered nurse, she's working towards a Bachelor of Science in Nursing.
Kurtz, a third-year student in CSUMB's Master of Science Physician Assistant program, volunteered with MSPA students and faculty to help the county set up an alternative care site in Marina last spring, in case area hospitals reached capacity. In March 2021 he was working at an urgent care clinic in Sherman, Texas, completing clinical rotations required to graduate.
Crisp began her healthcare career in 2000 as a tech at a psychiatric hospital. She went back to school and became a registered nurse in 2014. She joined the staff in Behavioral Health Services at Community Hospital of Monterey Peninsula in 2017. She's enrolled in CSUMB @ CHOMP, a program that offers on-site classes at the hospital for registered nurses to earn bachelor's degrees.
Answers edited for clarity and length.
What has the last year been like for you? How did the pandemic affect your work and school?
Siino: In March of 2020 when we received word that there would be a shutdown and COVID-19 was here, our hospital worked very hard to prepare for it all. We watched other countries like Italy become overwhelmed and then New York, and we wondered how our small county hospital would manage. We had a summer surge of patients, and definitely a larger winter surge. My workplace environment changed drastically. The days were harder, I came home more physically, mentally and emotionally tired.
In order to be successful at school, work towards my goals, and take care of my physical and mental health, I had to decrease my hours at work. That was a hard decision because I knew my coworkers and unit needed me. It was a balancing act. If I had finished my assignments for the week, I would pick up another day at work, if I had too many assignments or fell behind, I wouldn't.
Crisp: It was scary, especially in the beginning, because you just didn't know who had it, and we didn't know enough about it. And we have patients who are very high-risk because they are homeless or live in community housing, so that was concerning. We all worked extra shifts, and it was hard juggling that extra work and finding any free time, and not just being totally submerged in school and work.
I'm definitely an in-person kind of learner. I want to sit in the front row of the class. So that was a huge transition for me to switch to online learning. I had never taken an online course before. I'm sure a lot of people were in the same boat.
Kurtz: You think the biggest thing you have going on in your life is trying to make it through your education, to get out to the other side to finally be a healthcare provider. Then four or five months before the pandemic really hit, my mother-in-law was diagnosed with stage 4 cancer. And then we got pulled from clinical rotation, and we didn't know would it be for several weeks or months? Would it be the rest of the year? How would we make graduation? [Students returned to clinical rotations in June 2020.] My mother-in-law ended up passing the month before the pandemic began, and I don't think that we ever really got the chance to grieve.
What was one of the hardest days at work? What was one of the best?
Siino:This past December and January were the worst days. There was just a lot of patients and a lot of death. Working in ICU, I am exposed to a dying patient quite often. But this was another level, so many in just one day is hard to process sometimes. One thing that kept me going was my co-workers. We talked to each other, helped each other, we knew we were going through something similar and awful together. Perhaps the hardest part was people dying alone, or with a loved one on speakerphone or an iPad. Listening to families say goodbye to their loved ones and not hold their hand or be there was just sad, and it was a regular occurrence.
One of the best days was when our first COVID survivor went home. He was on a ventilator and every ICU nurse had a turn taking care of him because he was in our unit for such a long time. It was a glimmer of hope that we all needed. Another good day was very recently when we no longer had any COVID ventilated patients in our ICU! That day made me feel there is a light at the end of the tunnel.
Crisp: The best day was when we started giving vaccines in December. It was just a huge sense of relief, that we finally had some protection. CHOMP's really stepped up and been one of the big vaccine centers, and it's been a blessing.
Kurtz: One of the best days for me, [at UCSF Fresno hospital] we had a covid patient who was pregnant and she had been really sick for a long time. She was able to deliver, and both mom and baby were incredibly healthy. When they left the hospital, a lot of the nurses came down and applauded when she got off the elevator. You see a lot of patients in comas, and others in despair because of the quarantine and isolation, and then you see that. … It just gives you a moment of, "OK, thank God, maybe we can pull through."
How have CSUMB faculty and staff supported and helped you?
Siino: There were a lot of changes and adjustments that CSUMB had to make due to the pandemic. One of which was making our BSN program fully online. Every instructor I've had has been very supportive and understanding of what their students may be experiencing. I always felt that if I fell behind or needed extra time for an assignment, that they would work with me. I feel the attitude of CSUMB's BSN program is that they want us to learn, become better, and succeed.
Crisp: I think I had only ever done one video conference before the pandemic, and now of course I regularly do them. CSUMB faculty and staff supported you in making that transition, and if I needed anything extra, they were willing to do it. They were on top of it, and they've been very supportive. The staff has been just great and very available.
Kurtz: I heard a lot of other programs that weren't able to get their students back in time [to complete clinical rotations] and have to delay their graduation. We haven't had to delay graduation, even though we've been very strict about the lockdown in quarantine and not exposing students to COVID-19. It may be very frustrating, and it may just seem like an impossible situation, but they're still managing to figure it out. We have to appreciate how hard they worked, and they're making sure that we all do graduate on time.
What does it mean to you to serve others as a healthcare provider, especially during the pandemic?
Siino: I feel honored to be providing care to people in the most difficult and vulnerable times in their lives. To be a support for a patient's family is something I take so seriously. I can't imagine what it must be like to drop off a loved one at the hospital and not be able to see them, and sometimes not see them in person ever again. There are really great moments when a sick patient turns a corner, and you just know they will pull through. That and watching them get better day by day makes all the stressful, sadder times worth it.
I never expected to experience a pandemic in my lifetime. It's been a lot to process, and I'm sure I'll be processing it all, along with the rest of the world, for a long time. It's my hope that soon we will look back on this time and learn from it. Learn how to handle a public health crisis like a pandemic, but also how to better work together in times of crisis.
Crisp: If you can bring a little bit of light, a little happiness, a little hope to a person, it means so much to them. You get those moments of somebody giving you that smile and telling you thanks for taking that extra minute and being there for me, and that is the reward that makes it all worth it.
Kurtz: When I was young, I had a brother and sister, and we would pretend we were running away. And my sister would grab some type of stuffed animal, and I would grab this green bottle of antiseptic. It's just always been in me, something I cared about doing. Nobody told me, "You should go into medicine!" I just knew I wanted to. Even with the pandemic, it still excites me to this day.